From authentic source now some major changing has done in this institute, this all has done to make it more effective for this specific kind of studies. We write in order to give you information that Federal Medical & Dental College Islamabad is going under supervision of SZABMU. All things related to admission has also conducted under this platform. For 2016 and upcoming session 2017 schedule of FMDC entry test has revealed, once more time NTS having an obligation to declare its result and answer key to. Before couple of years huge number of students are appear in entry test and it's not possible for official to handle this huge strength. NTS have enough system and team to hold this test in better way and their checking system is also accurate in which mistaking chances are going minimum.  All students get ready who apply for admission and waiting for this test.
Schedule:
Test Date: 16 Oct
Answer Key Will come At Evening Same Day
Result:

Confirm after Conducting of Test
Official Advertisement: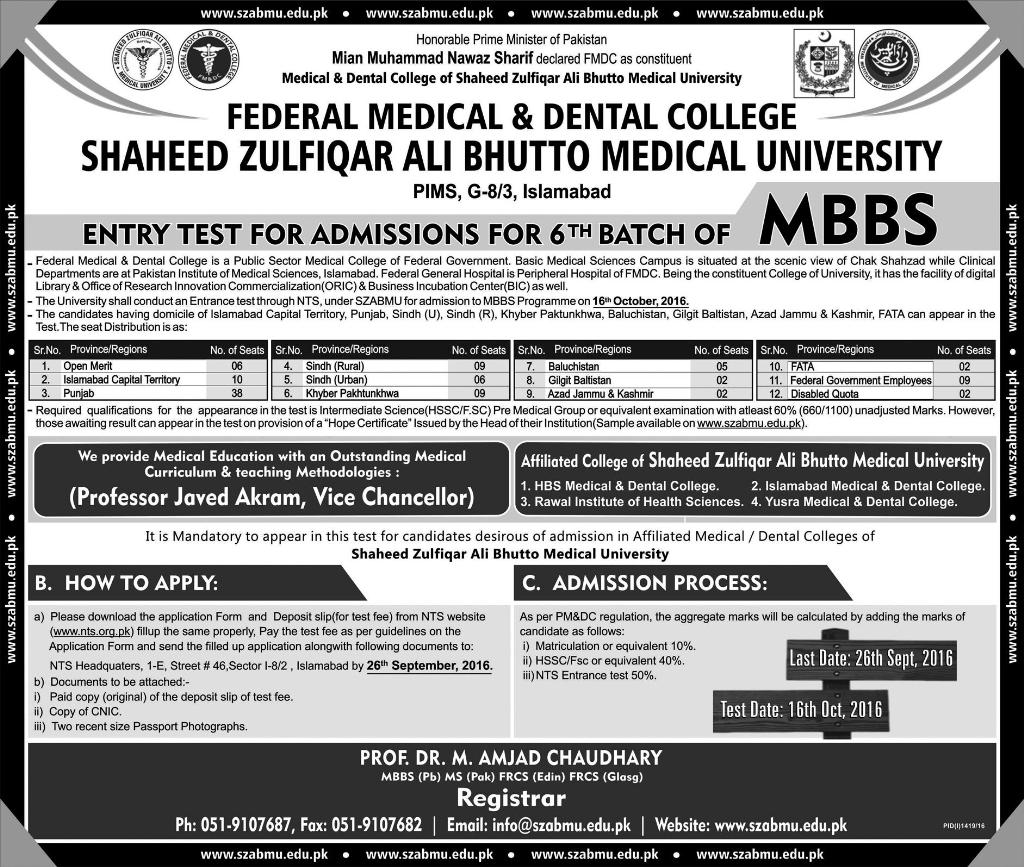 Answers Key:
   

BLUE

   

GREEN

   

PINK

   

YELLOW

    White
This popular platform of medical studies is also recognized by PMDC. In past it is attach with Quaid-E-Azam University, but this year after order of PM it starts working with collaboration of  Zulfiqar Ali Bhutto Uni. The basic purpose behind this affiliation is to improve its quality education in capital city of Pakistan. Every year they provide number of doctors that serve this nation. Now it's time for the admission of FMDC for which a proper criterion is announced. After holding of entry test a merit list is also announced that will cover those name that are selected for the admission.
All students that will give this entry test they also verify their answer through its  key that will announce by the officials of NTS.  More over result will decide that one is eligible to carried on studies here in Federal Medical and Dental College Islamabad or need to search some where else. Try to appear with full preparation because this is final criteria for selection.