University of Sindh admission schedule 2013 has been announced for all the students. This admission will be undertaking the students for the programs of B.Ed, M.Ed and M.A. Education as for both the evening and morning classes. University of Sindh has been considered to be one of the biggest and oldest distinguished universities within the Sindh province. This university put its foundation in 1974 with the campus that falls on the land of 18000 acres. The entire campus has been extended at the area of 52 diverse centers and departments. There are numerous teaching staff members that are contributing their efforts within eight different programs. The courses of B.Ed and M.Ed are for one year while the course of M.A. Education is for two years.
University of Sindh Admission Schedule 2013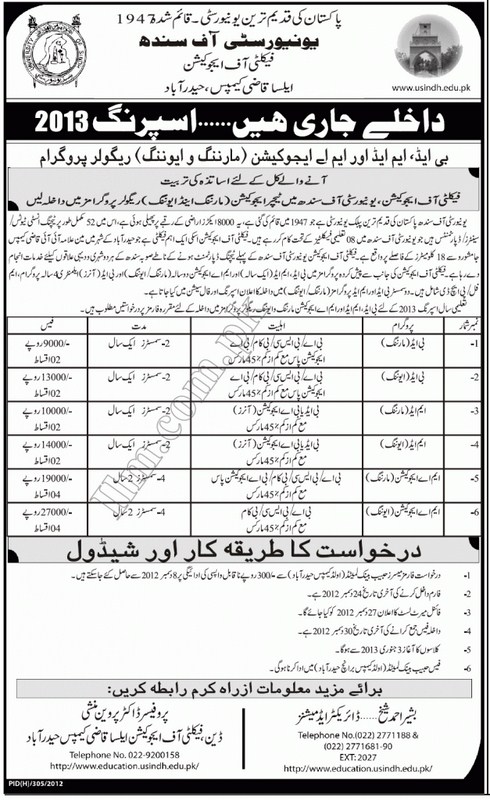 UNIVERSITY OF SINDH ADMISSION SCHEDULE:
All the students who are ready to take admission in the University of Sindh they are free to get the admission forums from 8th December 2012 from all the branches of Habib Bank at the cost of Rs. 300.
The last date for submitting the admission forums will be 24th December 2012.
This time University of Sindh will just be showcasing one merit list that will be displayed on 27th December 2012.
Fees will be submitted till 30th December 2012.
The first class session will be taking place on 3rd January 2013.
ELIGIBILITY AND FEE STRUCTURE OF COURSES:
This course will be offered in the morning with the duration of one year. All the students who are applying for this program are required to pass their B.A. and B.SC with maximum 45%. The fee of per semester is Rs. 9000.
This course is also offered in both evening and morning timings with the time scale of one year. The students should pass their B.Ed and BA with 45% marks. For morning classes the fees will be Rs, 10000 while for evening classes the fees will be Rs. 14000.
MA in Education will also be offered for both served in both morning and evening timings with the coverage of two years. All the students should get the passing percentage with maximum 45% marks in BA and BSC. For morning classes the fees has been rest as Rs. 19000 while for evening students the fees will be Rs. 27000.
CONTACT DETAILS:
Bashir Ahmed Sheikh (Director Administration)
Tel: (022) 2771188 & 2771681-90
EXT: 2027