Winter is going with the number of wedding ceremonies because mostly wedding are organized in the winter season. Winter is the best season for wedding functions. When is comes to the wedding, decoration should must be done weather it is a wedding place or a wedding car. That is why we are here to give you some wedding car decoration ideas in Pakistan pictures and many styles to decorate the car with different things. If you want to give some lovely finishing touch to your wedding car just follow up the instructions given here. There are many decorators who will get a lot of money from you to decorate your car, but if you once read out this post and see the  wedding car decoration ideas pictures it will be easy for you to decorate it by yourself. There are plenty of wedding cars decoration accessories but here we will tell you some special accessories that can make your car unique and splendid, if the wedding is in night and you are going to use car in day you must use some ribbons  and red artificial roses to decorate the front and on sides and back, you should use some green pom-poms and small balloons to decorate it. Under these pictures we have given you some more funny wedding car decoration ideas that can bring smile to the brides face.
Wedding Car Decoration Ideas in Pakistan Pictures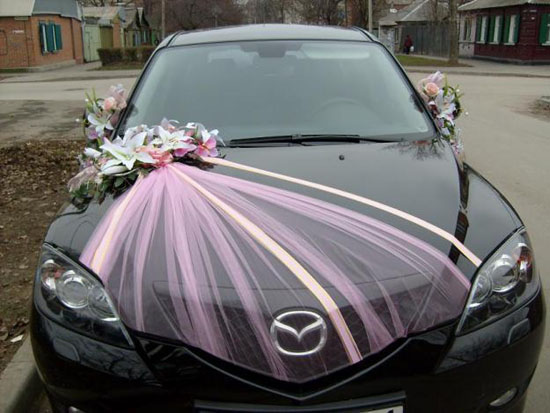 Wedding Car Decoration Ideas 2015:
If you are looking to give fine and attractive look to your wedding car you must get your Wedding car decoration with rose from front and back. On the sides of your car, you should use some plastic car decoration accessories such as flowers, balls, hearts and buke of flower.
Your decoration should must be according to the color of a car, there are some car wedding poster that can be useful while decorating the car. You should also use some color full dupatas and hang them around the car with layered styles. Choose some different shades of dupatas and use them on the bumper in shape of heart.
Get some plastic golden hearts and hang them in the front side of the car and use golden shiny starts along with the pink color flowers.
Get some pink balloons and and hang put them on the car roof and place a pink buke at the car bonnet, get two pink dupatas tight them with the front mirrors.