It's observed in each single year that there is a huge change is being noticed out in the Walima outfits. This is a essential event in Pakistan for the wedding couple and hence the bride has to be very much conscious when it comes about the choice of the reception wear dresses designs. Now in 2017 latest dresses trends of the Pakistan Bridal for Walima wear is in pipeline, soon these embroidering cloths will come in market. If you would look back in the past then the old fashion of the wedding attire are back again. Women mostly do not favor wearing the jamawar or gota dresses but it is surely becoming one of the fresh fashion swings among the brides.
Latest Ideas:
Moving towards the new arrivals that are being captured inside the reception wear for the brides. It is important that you should think about wearing something light and the one that is easy to walk around too. You have to meet and greet up with the guests on your walima so finding something easy to travel around is easy. On the bases of current observation, there is a huge demand of the Anarkali Frocks.
You will be finding some of the outfits for this special event that are being accessible in the Lehengas with the Long Shirts. If the reception gathering is being arranged just around the family mates then there is nothing wrong wearing a beautifully adorned Salwar Kameez Suit.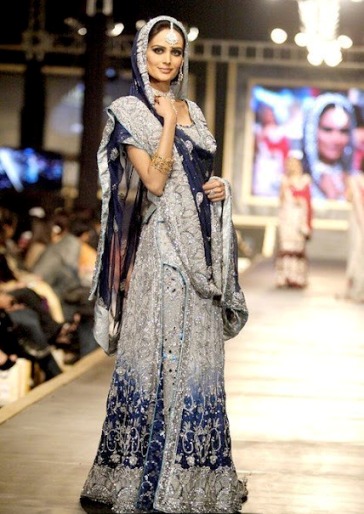 Best Colors Choice:
During selection you should be very much careful. You should choose the color options those not just matches with the skin tone of the bride but goes out to be perfect with the seasonal happening too. In the summer season, you can wear something light or cool in the night time such as (Pink, Move or Feroze). In the winter season always select one among bright and bold color blends.
Selection of Fabric:
Walima dresses are stitched with the same clothing fabric which you would probably be finding in the other days of wedding. Like Silk, Chiffon and ladies Jamawar stuff are some of the common reception fabrics.
So if you are planning to tie knot soon and is hitting your mind with the perfect outfit's options then start making the list of the few best one now! According to these ideas one must able to get a best looking outfit. Although embroidery is considered essential one but now this time is flying over. May be some stylish print will be part of these collection.