Pakistani Bridal always seems so worried about their whole appearance. Thus in whole hairstyle is the most noticeable thing as this reflects the personality of a bride. It is recommended to carry that style which suits on you and you can carry easily. For Mehndi Barat and Walima Function bridal hairstyle gives a marvelous look in 2016. However, it is mostly depends on your attire. So, select hairstyles according to your age and dress otherwise you will ended up with very shabby look. For this reason, brides go with perfect hairstyle that enhances their entire look and confidence level. The below ideas can be worn with any outfit and suits well on everyone.
"For Mehndi"
Braids– Braid hairstyle is becoming the most popular and trendiest style among Pakistani girls. This Chic style is very less creative but now offering you to do various experiments with this. This hairstyle requires a little texture for holding hair. This hairdo goes well with almost every hair length but looks superlative on long hair.
Ponytails– This style is among the never-dying hairstyle. This hairdo is popular for its model look. Moreover, this style is best for the summer season to beat the heat with style.
"For Barat" 
Soft Wavy Style– One of the girlish hairstyle and gives a complete feminine look. And the best part is that it requires a very little effort and applicable on bob length.
Side Sweeps or Bangs– Side sweeps are always in the top of list of Pakistani girls. This simple and graceful style can easily be created with some alluring and interesting forms. It looks superb on any hair length.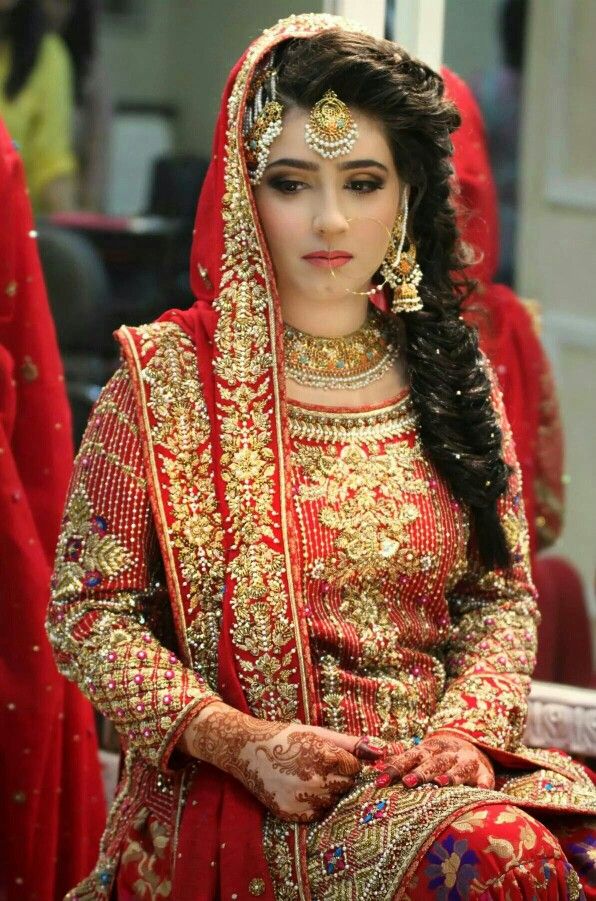 "For Walima"
Twists– Now Pakistani girls are likely to project this style on both formal and semi-formal events. Several types of twists are discovered. You can have it with the open loose hairs or with the tied hair.
Messy Hairs– Messy hairdo is the most desirable one among young girls. It is similar to curls but looks greater than curls. This style gives a very chic and young look and perfect for the winter season. For Mehndi Barat and Walima function these all kind of Pakistani bridal hairstyles are in 2016 trend. They must give a special look that every bride needs on that day.