Now a major problem of Pakistan is energy crisis. With the passage of time these crisis are enter in danger zone that will be really harmful in future.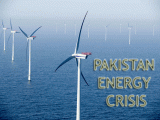 From a period of time these energy crisis are seeing to come but no one find its alternates. We divide this essay in two different parts first causes of these energy crises and then also discuss solution their solutions. Initially moving towards its causes: One major cause of energy crisis is high consumption ratio and less production ratio. Everyone is busy to uses energy while no one thinks about its production. It's one best example is now shortage of gas, initially it will available on reasonable price and it will also available according to requirement. With the passage of time when everyone is busy in using it and almost major industry of Pakistan is also convert on this energy source. At same time it's necessary to work on its production and if it will not further produce in Pakistan then it's necessary to doing some alternate but no one take care of this thing and now we face huge crisis due to its shortage.
On the other side now another Pakistan face another major energy crisis in the form of Load shedding. Due to this problem now it's really difficult to survive in this country. Every filed directly or indirectly connect with this problem so if this problem is not overcome then it prove one big obstacle in its progress ratio. Pakistan face another energy crisis in the form of shortage of fuel, in absence of other energy sources peoples used it as alternate but now it will also adopt a dangerous shape. Now moving towards their solution then in these crises our previous governments are responsible.
Now major solution of these all crisis is that next government take responsibility and they only doing work to find their alternates. And the most important thing is that they make a role through which it's useless usage and its wastage can be minimized. It's also necessary to utilize those energy sources that are still waiting for working. If our government of pakistan is serious to resolve energy crisis then with in year it will control able and it will accept that next government work on to minimize energy crisis.