Best Headphones for Music in Pakistan Price List is available here. This is a world of enjoyment. Everyone wants some refreshment in leisure time. So music is the best choice of every person. Some people heard music in loud voice. So this may be a problem for some people who are sitting beside you. So electronics solve this problem by introducing headphones in various varieties. These headphones vary with price to price but the main function of these headphones is just to decrease the voice so other people may not disturb.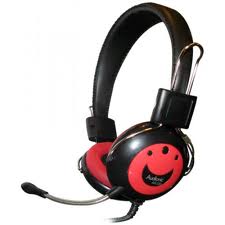 Following are some branded headphones with prices.
v  Audionic Studio 5 Professional Headphones  Rs.1150
v  Sennheiser MX 80 In-Ear Headphones Rs.1050
v  A4Tech iSecureFit Metallic Earphone MK-690 Rs.750
v  Audionic Studio 3 Professional Headphones  Rs.800
v  A4Tech HS-800 Stereo Gaming HeadSet Rs.1300
v  Creative WP-350 Bluetooth Headset  Rs.8990
v  Sennheiser RS 220 Digital Wireless Headphones  Rs.45900
v   A4Tech ComfortFit Stereo Headset HS-28 Rs.850
v  Grado SR 60i with price 5000 Rupees
v  Plantronics audio with price 4999 rupees
v  Genius HS 300U with price 1999 rupees
v  TDK headphone ST 900 with price 2499 rupees
v  MP3 Bluetooth headphone with price 2999 rupees
v  AKG K430 headphone with price 9499 rupees
v  JPL J88i headphone with price 29,999 rupees
v  A4 tech HSB-500U headphone with price 2990 rupees
v  A4 tech HS105 headphone with price 1490 rupees
v  A4 tech HU 200 headset with price 2149 rupees
v  A4 tech L 602F headphone with price 1490 rupees
v  Creative HS 330 headphones with price 1899 rupees
v  Sony headphone with price 2000 rupees
Here we try to elaborate one thing that is quality of these headphones. Quality wise good headphone has quality voice through and not disturbs ears. While they come combine to your ears and never come out. So must take care to select quality headphone and take care to select right one. There are multiple benefits of headphone one can enjoy anything without disturbing neighborhoods. Because at same time it's necessary that one likes your favorite thing and most important another has same mode as you.  So one must take care of these things and take care of surrounding.