Finally time announcement come related to BOL TV network channel launch in Pakistan 2015 Frequency for this Live on air date is also come. Before this announcement testing transmission is started and officials of BOL request from all viewers and Cable operators that they on air their frequency after which viewers matched it and gives their suggestions. This launching is announced in very critical time, when a biggest fraud of Pakistan is put on their company AXACT. Right now all agencies are busy in collecting of evidence against them. If these all allegations are proved on them after launching of this TV channel then they must through them out from race of journalism. With passage of every day completion is going high in this field, because numbers of TV channels are launch with best anchors and Journalist team. In this huge competition it's not easy to survive with such serious proved allegations.
BOL TV Launch Date 2015: Testing Transmission starts from 18 MAY 2015 Hopefully after one month of testing transmission on 18 June this Channel officially starts its working
BOL TV Live On Air Frequency: 4037.00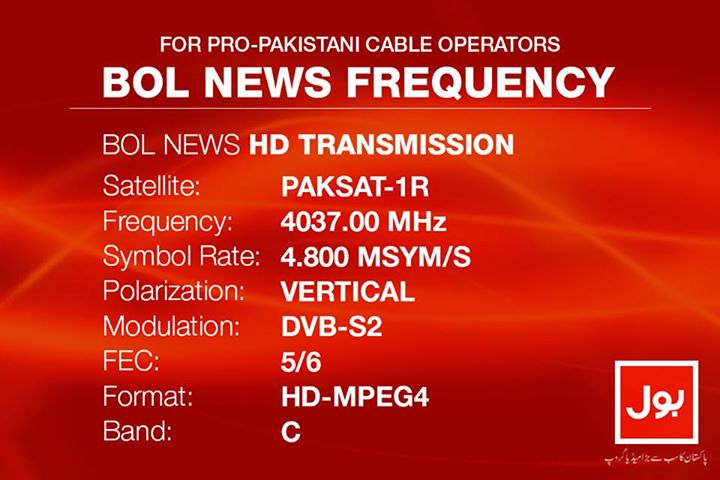 Here it's also important that number of top anchor persons and journalists quit other channels to join BOL TV. They also create hype before launching through advertisement, so everyone is waiting for BOL TV network channel launch in Pakistan 2015 for this Live on air date is announce. With this number of top pillars of this Channel also announce that if these allegations are proved they must quit this TV. So numbers of questions are raised before launching. With this it's also true this issue also create a huge hype, may be this is reason that officials thinks that its right time to announce this TV Channel. Further in upcoming day's whole story will makes clear that what happen after its launch. With all of this new innovations are also come in near future and with new things are add in their programs or news that compete others.