Coke Studio Season 7 has been started from 21 Sep, 2104 while its Episode 2 Songs List Singers Promo is come on 27 Sep. This studio is one of the best studios because it's always bringing new and latest songs in every seasons. Coke Studio is too much popular among the people of Pakistan due to their excellent episodes that bring latest and new song as per demand of the people of Pakistan. Coke studio bring the episode 2 after the too much successfully the episode one and a lot of people are provides the excellent respond against the first episode on social media. This episode has been introduced the demand and according to the people interest and this songs represent the culture and true interest of people and a lot of people are love these songs.
Singer that's play these songs are including:
Charkha by Javed Bashir
Chehra by Zohaib Hassan
Phool Banro by Humera Channa and Abbas Ali Khan
Washmallya by Akhtar Chanal , Komal Rizvi and Momin Durani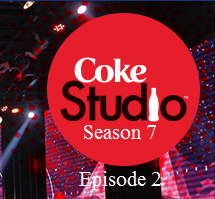 The singer and musicians that's telecast or singing songs are also too much famous among the people of Pakistan and there are a lot of people love those celebrities. This studio having excellent feature and introduced the songs with latest patron and tunes which is different from all songs. Coke Studio provides the facilities to latest and newly singer to play their song as per national level and participating too grooming the young talent in front of media and as well as audience.