Do you want to download Khud Kafalat Rozgar Scheme 2014 KPK Govt Application Form? The Government of Khyber Paktunkhwa is going to introduce khud kafalat rozgar scheme for unemployed peoples. This loan program is just similar to the loan program introduced by the federal government of Pakistan headed by Pakistan Muslim league (PML-N). It may be anther revolutionary step to decrease the unemployed rate in Pakistan as well as in Khyber Paktunkhwa (KPK). Rupees of 2 billion are reserved from total budget of Khyber paktunkhwa government headed by Pakistan Tehreek Insaf (PTI). The inauguration ceremony was held in Peshawar by honorable chief minister pervaiz khatak on 12 February 2014. The loan will be sanctioned by the bank of Khyber. In order to download its application form click below and download it. Here most important thing is that one must submit this application form before given date.
Khud Kafalat Rozgar Scheme 2014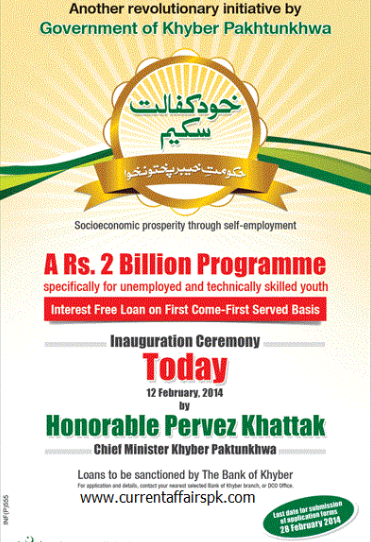 Click Here to Download this Application Form
Last Date for Apply:
The last date of registration is 28 February 2014 of this month. Any interested person can apply for khud kafalat loan scheme program before 28 February 2014. After 28 February registration will be closed.