All TTP Terrorist Pictures revealed that killed in Attacks at Army Public School Peshawar. These terrorists are entering in school and starts firing. With this till 165 kids with teachers causality report is come and number of injured are also admit in hospital. This is one worst action in which school children are targeted. Moving towards the responsible of this incident that Tehrik-i-Taliban Pakistan announces that they plans for this attack. They had finalized all plans in Pakistan and terrorist are also choose from Pakistan that take part in this attack. They also threatened Pakistan government and peoples that are going far from militant office because in upcoming days they are ready for more attack in army residence or related places of army. This is one big task for government as well as for Pakistan army that how they deal with these militant wings in upcoming days. After their first attack TTP Terrorist Pictures are also come from their official source that attacks at Army Public School Peshawar.
CHILDREN DNT SEE THESE PICTURES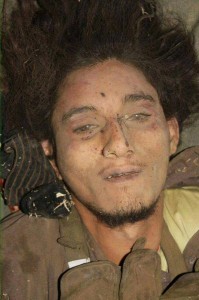 Here it's also important to discuss the reaction of this TTP Terrorist Attacks at Army Public School Peshawar. This attack forms a shape of black day in Pakistan and unite whole nation. Although the nation that lives in Peshawar is too much strong, they never lose their heart. They face number of attacks and face every happening with big heart. This is first time when local community cry and they just demand from government and army that supporter of terrorist must hanged in front of peoples. This incident also gathers the all political parties and army at one platform. Right after this incident prime minister meets with chief of army staff and called an all parties confers. In this confers all parties decides that they face terrorists together. With these TTP Terrorist Pictures Attacks at Army Public School Peshawar must help for investigate for all agencies.