The progress in the sector of bikes manufacturing shows that Honda has contributed more than any other company. Standard of their parts are best one, meanwhile, its best assembling makes their performance long lasting. As the upcoming year, 2019 will come after days, Honda is also ready to reveal their new model motorcycle in Pakistan. The detail of  Honda Upcoming Bikes in Pakistan 2019 is listing below. The company is integrating new model motorcycle in (70, 100, 110, and 125) CC, this time heavy models will also set to introduce that include (150, 250, and 500) CC. This all will show that now riders have too many options, so they can select any of them according to choice. This is the first time that a single producer will come with so many choices. Some changes will expect in them, but hopefully, prices will remain same.
Majority of above models equipped with a four-stroke engine, and also has one cylinder. The main focusing spec is the beginning of air-cooled engine in them. According to local atmospheric heat, this is one major issue in the motorcycle that will overcome with help of this advanced feature.
Honda Upcoming Bikes in Pakistan 2019:
Honda New Model 2019 Motorcycle Price:
CD 70cc Euro 2

, in (

63,500 Rupees

)

Dream

, in (

67,500

)

100cc Euro2,

in (

86,000

)

Pridor CD 100cc Euro II

, in (

86,0000)

CG 125 Euro 2

, in (

103,400

)

CG Dream 125cc

, in (

106,400

)

Deluxe Euro2

, in (

124,500

)

CBR 150

, in (

660,000

)

CBR 500R

, cost is only (

1,250,000

)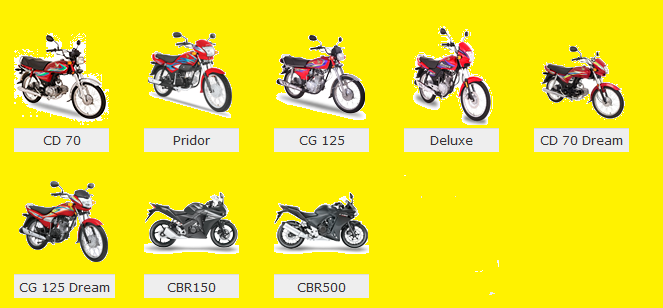 Major Specs:
This time quality of shocks is also improving after this these are best absorbers. Comfortability of front and the back seat is also going good one, furthermore company tries to make its fuel mileage impressive one. Some changing will also expect in shape of Tanki with different graphics.
Another upcoming launching is Honda Unicorn 2019, with the best outer look. The first time it has an analog speedometer and odometer. Its new fuel gauge helps one to check the remaining fuel, meanwhile, its trip meter also shows that how many Kilometer one will travel more. Everyone in Pakistan is now waiting for this new model. Let wait and sees that how much it will impress. This is a major traveling vehicle, that why now people get chance to try some new and stylish. Its true that according to production this is the best option, expectations are that their sale will also increase.