Here details will be given to you about this Baldiyati Election 2015 in Punjab! You will too be getting complete information and facts about date schedule rules nishan symbols list seats. 2nd phase of Punjab LB polls 2015- November 19, 2015: It was reported on Sep 3, 2015 that officials has now announced the complete schedule for this subjected and particular 2nd phase and 1st phase phase 2015. It has been announced by the Election Commission of Pakistan that the whole necessary updates for these second phase of these local government elections in Punjab provinces will be commenced sooner. It has been now according to the schedule by the ECP that the second phase of these Local Body elections will be held on November 19, 2015 while for 1st phase polling will take on 31 October.
Rules and Norms of Conduct for these Baldiyati Election 2015 in Punjab
All political parties and nominated candidates should not pass any derogatory comments or statements that should hit the integrity or sovereignty of Pakistan.
No political party should pass a statement that will be hitting the prestige or repute of law, courts, judiciary and institutes of army.
Political parties and nominated candidates should be following all the rules and procedures and set guidelines so that Punjab Baldiyati Elections can be commenced on a fair basis.
Parties should consider their first and sole duty to protect and safeguard the rights of Pakistani citizens first.
Political parties should also refrain from illegal activities like giving bribe to voters, to harass the voters so that they can win these Punjab Baldiyati Elections.
Right at the particular day of polling, no single political party should annoy the voters to cast a vote in favor of them.
No political party should interfere at the polling day.
Supporters of any political party should not remove or discard the ballot papers or symbols of other political parties.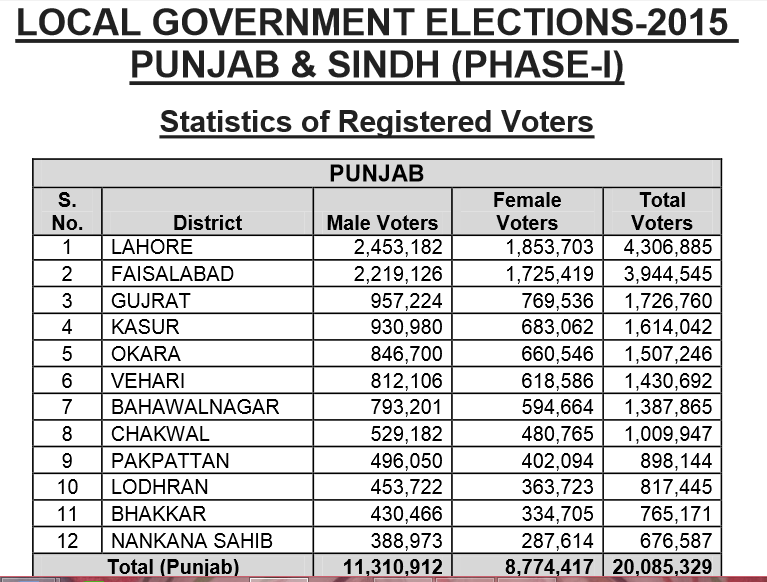 Seats List:
Chairman
Vice Chairman
Members
Nishan Symbols in Baldiyati Election 2015 in Punjab
PML-N: Lion
PML-Q: Bicycle
PML Functional: Rose
PPP : |Arrow
Tehreek Insaf : Bat
When Nomination Papers will be Received?
It is for the information that these papers will be started to be received from September 13 to 17,
And later on the checking of these nominations will be then start right from Sept 26 to October 1.
When Appeals Against these Nominations will be Received?
It is also to be noted that all the appeals that will be made against these papers will be start just until Oct 6.
If you want to withdraw then make sure that the last date for it will just be Oct 13.
When polling will be held?
Just keep in mind that that in Punjab, polling or these Baldiyati Election 2015 will be start right on the morning of November 19 and it will be carrying place in
This polling will also be taking place in
Other Districts.
You should also be noting that the polling in the remaining of the districts of Punjab will be taking place just earlier on Oct 31 right in the first phase of these local bodies elections 2015. So far, these are the details about Baldiyati Election 2015 in Punjab date schedule! Hope so these elections must help to transfer thing to lowers portion where one must share major problems to selected candidates who also raised their voice to upper class.