This is best place from where you can find Rehaai Drama OST/ title Song on Hum TV. This is one meaningful song that touches your heart. In this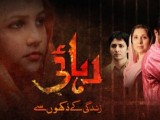 song few true realities of life is described that connect with majority of peoples. Especially in rural areas this types of realities occur several times. Just like in rural areas wedding of girl with elder man is not consider as wrong thing. They just wanted to impose their decision on her even to follow wrong things. If one sees the decision of marriage then this is major and important in the life of girl. Because she spent her life with this person if she married with elder one whose age difference is about 20 years. Then it is not possible for them to understand each other in various factors. But rural peoples make their own roles that are such unlawful and wrong activity. Through this song and drama an awareness will develop that may change the mind of peoples and this problem will minimized. So must listen this Rehaai Drama OST song and know about few wrong things that occur in society.
Rehaai Drama OST/ title Song on Hum TV
Rehaai Drama OST/ title Song on Hum TV is given there..
This song is title as Mil Gayi Dukh Se Rehaai Dekho, its title show the deep of this song. Tahira Syed and Roshaneh Zafar give their voice to this song while Naseer Turabi given lyrics to this song. Another important factor for any song is the music, attractive music give a new life. So Waqar give music and last Farhat Ishtiaq written this beautiful song. It will accept that this song get fame and also play an important role in popularity of drama. Because now competition between dramas is very high and title songs is really important for success of every drama.