Details about Pakistan vs India 1st t20 World Cup Match betting Rate Price, Prediction 21 March 2014 is given there. Cricket is an international game and most famous in the world. Cricket will become more popular when there is a big tournament like world cup, t20 world cup, and Asia cup and champions trophy. People like these types of tournaments and support their teams on TV and also in the ground. Many people like to see cricket match in the ground. Some people who do not go to ground will like to see live match on TV.
T20 game is a fast game and now it becomes the most favorite game to the cricket supporters. There are so many reasons behind this. Some people like t20 because this is a short time game and almost complete in 3 hours. Some people like this game because this game is a fast game and there is a chance to see sixes and fours.
Now in this time t20 world cup is playing in Bangladesh. A country of the continent Asia. People are waiting to see the big games like the matches between Pakistan and India, England and Australia, West Indies and South Africa etc. but if we talk about the people of Pakistan they are waiting for the match between Pakistan and India which will be played on 21 March 2014.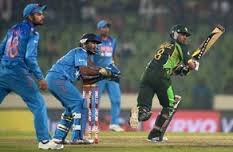 The Pakistan has announced its team names which include:
Muhammad Hafeez, Ahmad Shahzad, Kamran akmal, umer akmal. Umer gul, Shahid Afridi, saeed ajmal, shoaib malik, bilalwal bhatti, sohail tanveer, sohaib maqsood, zulifiqar Baber and Muhammad Talha.
India team include:
MS dhoni, Rahane, Mishara, B. kumar, Muhammad Shami, Ashwin, Mohit Sharma, jadeja, R.sharma, Dhawan, raina, binny, kholi and Y. Singh.
If we talk about the possibility to win the game then there is a chance if Pakistan wins the toss and elected to bat first then Pakistan can win the game. If Pakistan improves its batting line and fielding line then also there is a chance to win the match. Toss will play a important role in the game.