Pakistan vs Netherlands Live Semi Final Score Hockey Champions Trophy 2012 will be on 8th December at Australia Melbourne. This is really great afford from all players of Pakistani Hockey team that after 8 year Pakistan will go the Semi Final Matches of Men's Hockey Champions trophy 2012. Last Quarterfinal hockey match of Pakistan is against the champion in hockey world Germany. In that math Pakistani player show poor performance in the first have and the viewers are very disappointed from them but it all recover in the second half when Pakistani players change their strategies to play against Germany and than the result was at the end of the Quarter final Pakistan was at 2 and Germany was at 1.
Shakeel Abbasi is the men who score 2 goal from Pakistani side. After the starting of match in the 9th minute Germany made a goal and that act put Pakistani players in pressure and that goal is made by the captain of the Germany team Fürste. Result of that pressure is that Pakistan get 3 Plenty corner and many other chances to clear goal but Pakistani team could not able to do so in the first half but second half was in favor of Pakistani player and at the end of the day Pakistan won and Germany team is out of the tournament.
Pakistan vs Netherlands Live Score Hockey Champions Trophy 2012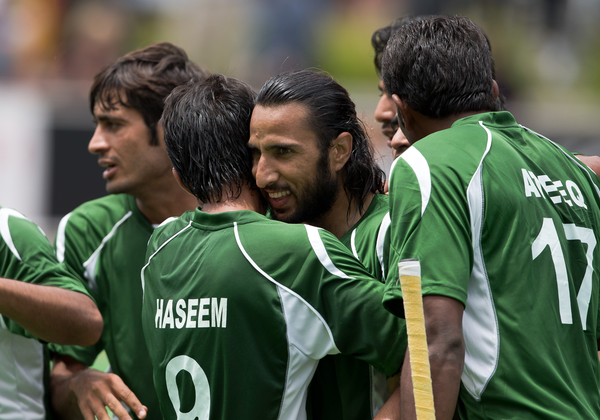 With this great success in Quarter final now Pakistan will face Netherlands tomorrow at 4:00 Pm according to the Pakistan Standard Time. Netherlands is not an easy task for the Pakistan as this team is the topper in points table from Pool A and in the last quarterfinal match Netherlands has won from New Zealand with 2-0 goals. First goal was made by Jeroen Hertzberger in the 19th minute after starting the math and than second goal from Netherlands is in the second half of the game.
Tournament: Men's Hockey Champions Trophy 2012
Match: Pakistan vs Netherlands 1st Semi Final
Date : Saturday, 8th December 2012
Time :  1:30 PM Local Time, 4:00 Pm PST
Venue: Melbourne Stadium, Australia
Pak  2 | 5  Ned
Pakistan Team For Champion Trophy Semi Final
Imran Shah (GK), Waseem Ahmed, Muhammad Imran (C), Muhammad Rizwan Junior, Fareed Ahmed, Rashid Mehmood, Muhammad Waqas, Shafqat Rasool, Abdul Haseem Khan, Muhammad Rizwan Senior, Shakeel Abbasi, Imran Butt (GK), Syed Kashif Shah, Muhammad Tousiq, Muhammad Umar Bhutta, Ali Shan, Muhammad Ateeq, Muhammad Kashif Ali
Netherlands Team For Champion Trophy Semi Final
Jacob Stockmann (GK)(C), Pirmin Blaak (GK),Klaas Vermeulen, Marcel Balkestein, Wouter Jolie, Jeroen Hertzberger, Robbert Kemperman, Sander Baart, Bob De Voogd, Sander De Wijn, Rogier Hofman, Severiano Van Ass, Valentin Verga, Quirijn Caspers, Billy Bakker, Tim Jenniskens, Floris Van Der Linden, Mink Van Der Weerden
Pakistan Hockey Teams seems to be fully confident this year in Men's Hockey Champions trophy 2012 but this is isn't mean that Netherlands will be an easy task for them. This is a game and before time no one can bet that who's team will gonna make its place in the finals so st
ay in touch with this age to see the Pakistan vs Netherlands Live Semi Final Score Hockey Champions Trophy 2012 online.