Pakistan XI Vs World XI T20 Live Score 2012 Geo Super at National Cricket Stadium Karachi and There are total 2 matches that were played between Pakistan XI and World XI and the first match of that AO Trophy will be played at National Stadium Karachi on 7:00 Pm. There are much excitement in the heart of every Pakistani about this match as this is an also hope to bring international stadium in the ground of the Pakistan back. Geo Super will telecast this Pakistan XI VS World XI T20 matches live from Karachi Stadium. There are a security of 5000 policemen who struggle to secure this event and every Pakistani looking forward to see Afridi back in Action during this AO Trophy. This tournament is organized by the Dr. Muhammad Ali Shah and while talking to media he said that all the players will be given full proof security so that no misshape will take place during this tournament.
Pakistan XI Vs World XI T20 Live Score 2012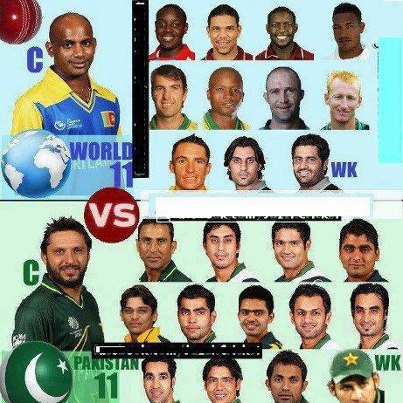 Teams: Pakistan XI Vs World XI
Pakistan won the series with 2:0
Series: AOTrophy
Date: 8:00 Pm PST | 14:00 GMT
Venue: National Stadium Karachi
Dr. Muhammad Ali Shah said that 3 crore rupees will be spent on these two matches and 30% of ticket revenue will be allocated to fluid affected areas and people. On 18th October 2012 World XI team arrived to Karachi Airport and now both teams are practicing for the match as both the teams want to win this tournament. Pakistan XI is lead by the Shahid Afridi and International World XI is lead by the Sanath Jayasuriya. World XI or Pakistan XI is unregistered teams from the International Cricket Council (ICC) so that is why Sindh government takes permission from the Pakistan Cricket Board (PCB) for this match. After the attack in Lahore at Sri Lanka's team in 2009 this is the first time that any international team is going to play in Pakistani stadiums.
So after a long time Karachi National stadium is going to b lightened again for the Cricket lovers around the world. Pakistani Cricket lover are dying to see an international cricket in Pakistan and the Ticket prices for the entry in the stadium varies from Rs.8 to 300 and than Rs 500. Choose according to your pocket and see this very exciting match. One thing is for sure about this match that this match will gonna be a nail biting match as the famous cricket stars of the world will face men in green.
Pakistan All Star XI squad
Asad Shafiq, Fawad Alam, Imran Nazir, Khalid Latif, Mohammad Sami, Nasir Jamshed, Sarfraz Ahmed†, Shahid Afridi*, Shahzaib Hasan, Shoaib Malik, Umar Akmal, Umar Gul, Wahab Riaz, Younis Khan
International World XI squad
LE Bosman, M Hayward, ST Jayasuriya*, JJC Lawson, Mohammad Shahzad†, A Nel, RL Powell, A Sanford, AJ Seymore, Shapoor Zadran, SR Taylor, MS Tshabalala