Specification detail of PTCL 3G EVO Summer Offer Price Charges are available here. PTCL is one of the best telecommunication companies in Pakistan. PTCL stands for Pakistan Telecommunication Company Limited. PTCL is very much famous among all the Internet users in Pakistan because PTCL always come with amazing and attractive offers for their users. PTCL offering exciting internet prices to its valuable customers. Now PTCL announced new offer for their valued customers. It's known as "PTCL 3G EVO Summer Offer". It is an amazing offer for those customers who use internet daily. Through this offer customer can get one month of complimentary internet usage with no extra charges. This offer provides to any subscriber making a purchase of a new EVO 3.1 Mbps USB and enjoys this summer offer. In additional these subscribers shall also be offered attractive discount on month repetitive charges for a period of 1 year. If anyone want to purchase a new EVO USB just pay only Rs. 2,550.Now EVO USB is available you're nearest PTCL Office.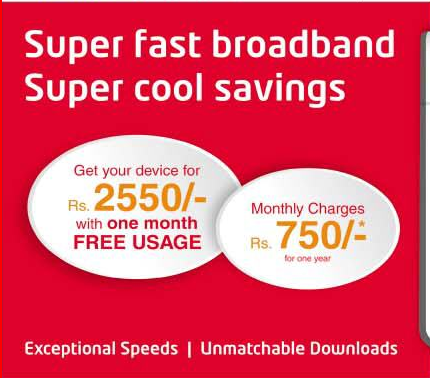 Price Charge Details:
| | | | | | |
| --- | --- | --- | --- | --- | --- |
| Product | Bundle Cost | Complimentary Air Time | Volume |    Monthly line-rent | Billing Mode |
| EVO 3.1 USB | Rs. 2,550 | 1 Month | *FUP Applicable |                 Rs. 750 |     Prepaid/Postpaid |
Terms and Conditions:-
(1)   This offer for new purchase of EVO USB only.
(2)   This offer is not applicable for package conversion for existing customers.
(3)   * Presently 30 GB.
(4)   The Customer shall be eligible for discounted line rent for 1 year, valid from time of activation.
(5)   Upon expiry of discount period the package will revert to standard commercial package with prevailing rates.
(6)   This offer is valid for purchases of EVO 3.1 USB made between 17th & 31st May, 2014.