Ufone is a Pakistani Telecommunication Company Limited which provides to their customers good facilities of different cheap packages with rates .This Company started their work in the field of Telecommunication in January 2001.In 2012 Ufone launched their social networking service for their Ufone customers Club Ufone, available in English and Urdu languages. People of Pakistan use this company facilities with huge amount because it provide their customers very cheap packages of SMS ,call and internet and these packages consists of weekly, monthly and daily. Ufone also provide you international call and SMS packages with in limited prices and everybody affords this facilities.
Ufone always understand the difficulties of their customers and ready to fill full them. Recently Ufone offer first time in Pakistan international SMS bundle offer in a very cheap rate and this international SMS Bucket provides you the lowest SMS rates to 24 destinations worldwide.
Ufone Prepaid International SMS Packages with Rates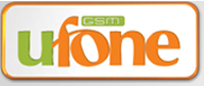 International SMS Bucket:
SMS Count: 100
Price: Rs 4.99+Tax
Validity: 24Hours
Activation: SMS "sub" to 6055 or dial *6055#
Deactivation: SMS "unsub" to 6054
Terms & Conditions:
SMS Buckets do not include Premium SMS
Customers can check the remaining SMS bundle through send blank SMS OB 606
This international SMS package will not re-subscribe after 24 hrs,i,e .you will not have to re-subscribe the bucket through 6055 everyday
Ufone provide to their customer's best quality of services during the heavy traffic period, SMS packages shall be revised or suspended on Religious and National holiday, regular SMS and data charges shall apply for such duration.
This international SMS package valid for most of countries such as Tanzania, Bangladesh, Belgium, Sweden, Ireland, Qatar, Germany, Hong Kong, Afghanistan, Indonesia, Iran, Italy and many more countries. You must try this international SMS package and contact to their dears who lived in abroad. This is a right place if you want to know about the Ufone new international SMS bundle package keep in touch with this page.