Now a session of hacking is start from a period of time. After Allied bank ABL, HBL, MCB hacking Now Tameer Bank by Telenor website also get hacked by some hackers that start these types of activities from a period of time. They all always busy to find out the open loop through which they get option to interpret in such website that has importance in such type of fields just like banking. This is one big failure of all those persons that have responsibility of looking after these websites. It's a part of their responsibility that they protect it from the interruption of every unknown person that had not rights to use it. It's a time of thinking that now hackers are too much advance or sites management is weak that they had don't protect him. But overall it's a really harmful thing for all those because in future success in these types of activities is really helpful to boost up. And in future they enhance their activities and struggle hard to achieve that type of worst things.
After HBL,  MCB hacking Now Tameer Bank by Telenor also hacked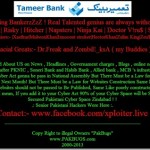 After HBL, MCB hacking Now Tameer Bank by Telenor also hacked total detail is given there..
Moving towards the hackers that get hacking in these couple of banks then still it will not confirm that from where they belong. This is beauty of hacking that you harm other in such way that your identity remains in secret. On hacking they just introduce their fake identity, regarding to this hacking same group introduce same type of identity in this whole activity with the name of Xploiter. They are continuously busy in hacking and in last activity they mention that now senior hackers are enter in Pakistan and after hacking Soneri Bank , Allied Bank, Habib Bank HBL, MCB administration of Tameer Bank not get lesson and they not secure their websites so it's time that they improve their system to avoid from hacking and remove weak points.