If you will get this device then you will get the internet service for the period of three months. It was on the occasion of Eid that PTCL introduced this PTCL 3G EVO Tab for the people of Pakistan that has some special discount offers. Here you can review the latest update about this tab. This offer is clearly a saving of 18,000 Rs on purchase of EVO PTCL. After using free internet for 3 months customer will automatically converted to the normal monthly package. Along other specs customer can also avail various volume based bundle recharge options. This has been powered by best quadcore processor, and also coupled and combined with 2GB of RAM. It has a reasonable built-in storage and it is expandable as well with the help of microSD card. You can expand it up to and about 64GB.
Over all this comes with best sort of specs, that a customer require. You will get the free of cost Car Charger and as well as free Screen protector. In this range one can not find a better option then this one.
This net providing company is increasing their services in Pakistan said by the senior Executive Vice President Commercial. More added he said that we are still working on more improvement and will brings our services and products that meets the customers need and wants and 3G EVO Tab is like opening a new possibilities for customers with on-the-go connectivity offering a wide range of built-in and downloadable applications.
Note: This is an old offer, that is replacing with with new one. One can find its intro in below part.
Tab Dimensions: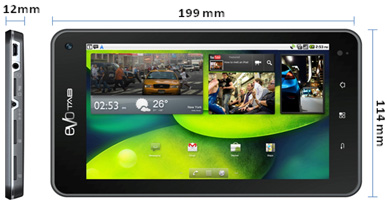 This is Charji EVO Tab, it will only run with Charji Network. It is not at all compatible with the EVO network or with the Nitro networks. These Services are present in every big city of this country.
By getting this one, they are offering free internet service for a time of three years and you will get a data limit up to 3GB for a per month basis. You will also get free 15,000 Ufone On-Net minutes and they will remain valid for a time of 3 Months. Its other complimentary services are that you will get a free Car Tab Holder long with 360 degree rotation. Upon buying this device, you will get a free One Year subscription for the Smart TV application. Oh this is huge that must beat all previous offer.