Do you know that PTCL EVO USB internet packages have been all announced? Pakistan Telecommunication Limited has made much finest progress and success with the launch of 3G and EVO. These two main features have surely help the PTCL is making its prominent place. EVO and 3G rates have been so far considered to be one of the lowest charges that have been even introduced by any network company. The speed of these packages has also been supposed to be the fastest ones that allow the customers to make use of constant downloading and surfing. PTCL has one more time banged in front of the EVO users with USB internet packages. These packages have been highlighted with such rates and terms that can offer much easiness and convenient level to all the people. Now we will move forward to discuss the main features and rate levels of every single package.
PTCL EVO USB Internet Packages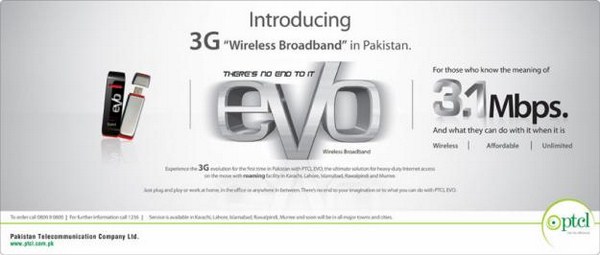 EVO 3G NITRO 9.3:
This package will allow the exciting accessibility of getting grab at 9.3 mbps of fastest speed at the cost of Rs. 2100. The customers can make the use of unlimited downloading and can even get connected with the social websites and messenger at any point of time.
NITRO 9.3 INTERNET PACKAGE:
This bundle will cost the rates of Rs. 1200. One of the biggest surprises of this package is that it will allow the users to make use of internet free of cost in first four months. Monthly recharging rates will be Rs. 3000.
EVO 3G 3.1:
EVO 3G will allow the customers to make use of 3.1 mbps with the unlimited internet fun at cost of Rs. 2100. This option has been accessible for both postpaid and prepaid users.
OTHER PTCL EVO INTERNET PACKAGES:
For 1GB internet you have to pay Rs. 799.
You can get 2GB of internet package at the cost of Rs. 1,199.
5GB of internet bundle can be obtained at the rates of Rs. 1,499.
If the users wants to get activate with the unlimited internet then they can get it at Rs. 1,999
24 hours of internet bundle can be availed at the cost of Rs. 100 per day.
30 hours of internet package can be purchased at Rs. 799.
This was all about the PTCL EVO USB internet packages. If you want to get subscribed with any such packages then don't wait any longer and get activate with it now.