At last, the Jazz new sim offer 2023 code has came back, through which a customer will get thousands of jazz free minutes, SMS and internet bundle too. Previously company will mix it with "SIM Lagao Offer", but now it will public separately. So presently never mix them with another. These are early days of this offer, so probably it will last to till the end of this year. For better conclusion, now customers can get the different type of bundles on buying a new sim of this network. Hope so after this differentiation one must know the original story. The offer is valid for all the prepaid SIM's in all over the Pakistan, so hurry up and take reward from it.
This company has a great revolution in the field of telecommunication in all over the Pakistan because they opened up everything for customers. This company is running through a complex value chain that holds service providers, vendors, and users instead of a vertically integrated business.
Jazz New Sim Offer 2023:
Their are total two Jazz new sim offer 2023 but one from them is only for specific districts. If you belong to any of these district then its perfect for you. While, second one is for broad users but it time duration is bit limited. Overall, one will pick a suitable from them. Name of these are:
New Sale Offer
Super New Sim Offer
Well, tech sector provides exciting benefits in local Industry. As it plays a part in the development of fundamental operations in the society, so it is used as a tool for societal communications. Furthermore, it facilitates the development and participation of communities.
In addition, it is an essential element for offering vital means of communications for national security and integrity. In short, now this is the only sector that works for the benefits of their clients.
It is very helpful in expanding the business. Mobilink Jazz facilitates the companies to effectively communicate with their clients and allowing employees to collaborate in one platform to share ideas thus in this way it is increasing the economy of Pakistan.
Jazz New Sim Offer Code 2023:
After purchasing of Jazz new sim, this offer is obtainable for next 6 months for a time of 7 days. The title it is New Sale Offer and code is *191#.
Moreover, the given bundle in the response of this message is 1 Thousand same network minutes + 1 Thousand SMS + Data bundle of 3GB. And this will came in yours account on recharge of 50 Rupees.
2nd Option:
Then, their is Super Sim offer that is for RWP, ISL, HYD and Sukkur users. Code of it is *476# and the awarded bundle is Six Hundred Minutes and SMS on same network, Thirty Mins on other network and data bundle of 6GB. And, one will active till 3 months of new purchased sim.
Note: Time frame for both of these offer is not published.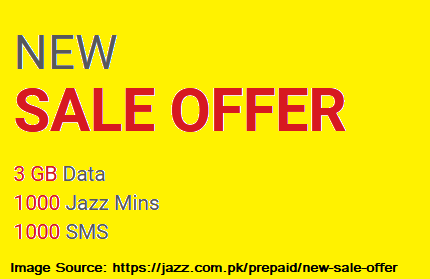 How to Get or Activate Jazz New Sim Offer?
All codes and the given free incentive that highlight in this text will help you a lot. But again the question is that this offer is still alive or not.
In addition, this sector is also playing a splendid role in the growth of human society and culture. While now for home use one can easily communicate in such low rates. Customers are the first priority for them, that why Jazz new sim offer 2023 code must happy all deactivate customer who switches to some other network. This will must come them back.