Zong brings Reconnect Offer With Free Minutes and SMS to all those subscriber who have not used their Zong SIM Since 25th August 2012. There are total five cellular company working in Pakistan and this is a wish of every one to capture the maximum customers of Pakistan so that is why they offer time to time some unique offers and now Zong comes in the market with reconnect offer. Simply through this, they are calling their old customers who left this network because of some reasons. Its a  good offer for purpose of back together, so get benefit from it, if you think that this is right choice now.
In this offer those customer who have not used Sim sine 25th August on just recharging a balance of 10 rupees can get 1000 free Zong to Zong minutes and 1000 SMS on any network. And Yes this offer is not end up here through this offer Zong subscriber can also get additional free on net minutes and free SMS to any network by just keeping their Zong SIM on in handset every week.
Zong Reconnect Offer Free Minutes and SMS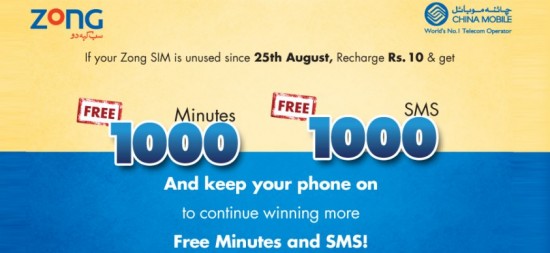 Zong Reconnect Offer Detail:
Subscriber can get instant 1000 free zong to Zong minutes
Subscriber can get 1000 free SMS to any of the network.
validity of the offer is just 2 days of every week
There are also some incentive by just keeping SIM on.
Offer is for a limited time
Offer is for all Zong packages.
This offer is promoted by a rap song which you can see now a days on almost every T.V channels in your home. This Rap is some like in responce of Ufone Rap advertisement these days. whatever it was but the thing is that this offer is really awesome for those who do not use Zong SIM from 25th August so what are they waiting for. Go and reconnect again your Zong SIM and take advantage of this offer.