Finally, this cellular network is thinking about its customers who left them because of some issues. Now, through Ufone sim lagao offer 2023; re joiners can get thousand of Ufone minutes, SMS along with handsome (2G+3G) internet bundle too. They just need to follow the latest code for the activation of their Band Sim. As per the campaign of this offer, Ufone has all the right to end it at any time. So this is the right time to back together with your previous network. Undoubtedly, customers are the assets of any company. For sure, through this, many of them have the option to avail of these bundles. Its additional detail is discussing in the following section of this writing.
Ufone Sim Lagao Offer 2023:
Before discussing the latest code for band sim, its essential to knows the eligibility for Ufone sim lagao offer 2023 because of those who full fill can get benefit from it.
This is valid for those entire customers, who have not used their Ufone Sim from the Last One Months.
After restoring the SIM, one just needs to dial *5000# from the phone.
The number of Free Call SMS and Internet Bundle:
One will get 6000 minutes for ( Ufone+ PTCL) network
Net Bundle of 6000 MB
Messages Bundle of 6000 SMS.
These bundles validity period: Within 60 Days or Two Month
Ufone Band Sim Offer Code 2023:
Few persons called it the Band Sim offer but in actuality both of them are same. While, *5000# is the code of Ufone Band Sim Offer 2023. While, the details of its benefits is same as highlighted above.
Imp Note: Below pic is of last year sim lago offer, this time its going double and customer get 6000 of each bundle.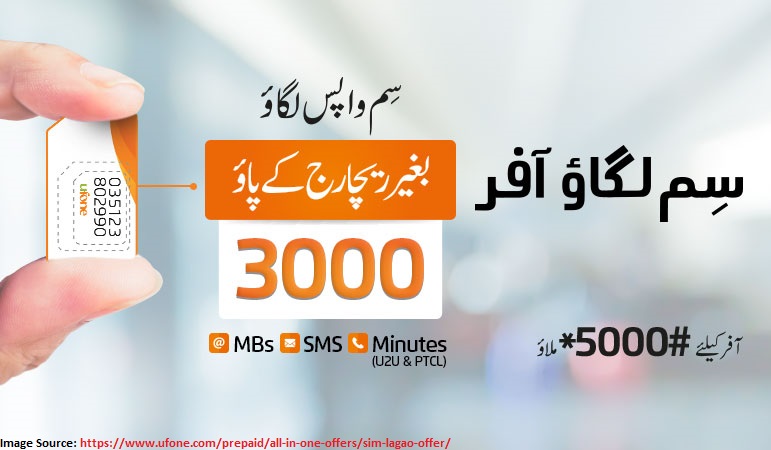 Keep in consideration that these entire bundles are not transferring to you at one time. Every day, rejoiner will receive 100 messages packet including the same number of minutes and net bundles for the duration of two month. Meanwhile, this offer is only valid for prepaid users. So hurry up, what they will expect from this one.
As it's clearly mentioned in starting part of this writing; that ending date of this offer has not disclosed now. So nothing is sure about its validity period of Ufone sim lagao offer 2023. Either, it's your choice that overall this network is full fill your desired requirements or not.