When we talk about the newly introduced fashion bridal accessories then we certainly mention the name of anklets. Anklets are recently the hottest highlighted fashion jewellery item for the young girls. This item is basically worn on the feet for making the feet more eye catching and attractive for the guest. Many teenage and young girls favor wearing this product but these days this jewellery piece is getting immensely popular in the wedding crowd as well. Anklets have been massively introduced in several styles and abundant shapes. But apart from the styling the anklets can only look presentable for the feet when they are selected by keeping in mind the bridal outfit and its color.
Latest Styles Of Bridal Anklets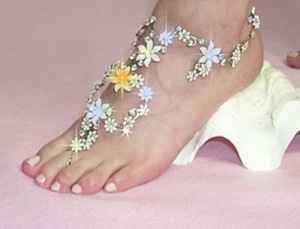 Many girls have soft and cleaned looking feet and they always wanted to highlight their feet in front of the others and for that purpose they are all the time in the search for finding the beautiful feet jewellery. This form of anklets can also select well for the girl Chappals as well that gives a stunning image to the feet along with the embroidered chappal. Additionally, by wearing anklets would you will fell like more stylish and fashionable among the crowd and it certainly helps you in attaining the attention of maximum people. Moreover, this alternative can also sets well for the formal parties as well as the anklets are introduced in several styles so the simple and plain anklets can be selected for casual events.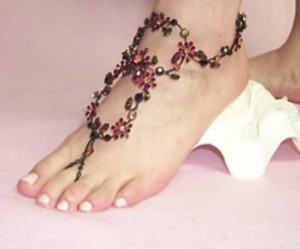 Simple anklets only cover little beads and stone work whereas bridal anklets revolve around the excessive work for the brides. During the summer season girls feel extra happier because now they will get the chance to wear the special jewellery that is specifically designed for the beauty of the feet. Furthermore, you can also make handmade anklets even by sitting idle at home with the help of stones and beads according to your personality and feet style. These anklet styles is suitably selected by the girls for wearing them with shalwar kameez and curdier pajamas Most of the times if the girl wants to look chic and modish then she can even prefer wearing these anklets with tight jeans and trousers as well. So all the girls if you have still not try wearing anklets on any occasion then try it ones on the coming wedding season and we are sure that you will discover your feet more stunning and gorgeous as compare to before.