Here we share with you a delicious cheese cake cooked by chef Gulzar. Cheese cake is popular not only among elder family members but also among children's .Baking cake is easy to bake but it require more attention and technique other than recipes. This is mouthwatering dessert recipe for cheese cake can be offer to their guests. Chef Gulzar is one of the most popular and leading cooking expert in Pakistan. He is currently doing a program on Masala TV Live at 9.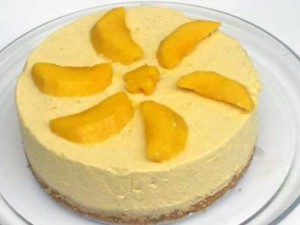 Recipe Ingredients:
Milk 1 kg
Eggs 2
Cream 1 cup
Icing sugar 2cup
China grass 30gm
Creamy cheese 250gm
Butter 4-5 tbsp
Season food as required
Method to make Cheese cake by chef Gulzar:
First of all take a frying pan and add in milk 1 kg along with 2 cup of sugar .When sugar dissolve and milk become thick then add in the milk cream 1 cup, creamy cheese 250gm.On the other side take a bowl and add in eggs yolk and beat very well then add this eggs mixture in the boiling milk and fry on low heat. During this process make sure milk should not boil. Take another pan and add in china grass 30 mg with water as required and fry grass gets until dissolve. After this add milk mixture and mix it evenly with the help of a beater. Now grease the cake trey with 4 to 5 tbsp butter and then pour the mixture and put a side for few minutes at the room temperature. After placed the mixture in the fridge. At last take out the cake from fridge and garnish with fruits and cream.