For entry Fiesta Water Park Karachi ticket price 2023 is finally settled by the official of this visiting spot. A water park is a place that offered different types of play areas just like water slides, pools, splash pads, lazy rivers, and playgrounds. These things provide the chance of best outing options that include swimming, bath, and much more. Besides this modern water parks create artificial surfing environments like flow rider or wave pool. This is the reason that in the last few years, these sort of parks gained much popularity. In the biggest city of Pakistan, The Great Fiesta Water Park has provided the best kind of vacation facilities for families.
Perhaps in summer, this is the most appropriate place to visit. This is a very reasonable amount to pay, so in this hot season must try out this place.
This world class park is located 35 km from Sohrab Goth. This has a wide area along with the delightful environment and pleasant settings. Further, this place consists of fourteen water slides along with a lazy river and hurricane wave pool for adults. Besides this, there are seventeen water slides for kids and all kids love these slippery slides.
Fiesta Water Park Karachi Ticket Price 2023:
The new Fiesta Water Park Karachi ticket price 2023 has been increased from the last year. So, this is the big news who are looking for some quality spot.
They tried to build a family environment in it that's why only male are not allowed to visit this place. While for, office or school tour there should be a ratio that is for everyone.
Special Offer:
The Great Fiesta offers to its customers a perfect place for organizing different parties which include:
School Picnics
Music Shows
Company Picnics
BBQ Parties
Birthday Parties
Restaurant
Food:
All management of this park also gives professional chefs who are specializing in Pakistani and many other cuisine types. These chefs make food according to the event and customers desire.
Fiesta Water Park Karachi Entry Fees:
For entry on a need to pay "1500 Rupees" and this is for one visitor. Further, children ticket is also same except those whose age is below one year.
Opening Hours:
10:30 AM to 5:30 PM daily
Phone Number:
0333-3529940
0336-3529941
Both of them contact num.
Breaks:
Sat to Thu: 1:00 PM to 2:00 PM
Friday: 1:30 PM to 2:30 PM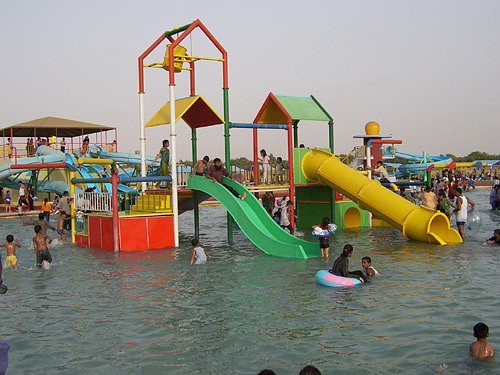 School Packages & Discounts:
Approximately up to 60% off on ticket price that cost (500 or 600) Rupees. It all depends on students strength.
Furthermore if one is looking for a cheap option then, Samzu Water Park is lesser than this one.
School discounts are only offered for more than 50 students. And school uniform is compulsory for entry and if someone enters without uniform than full rates will be charged. School is not allowed on Sunday, public holidays and vacations. Surely, the reasonable amount of Fiesta Water Park Karachi ticket price 2023 will encourage more visitors towards itself.