STEM Careers Programme is one of the best programme which inspire the youth of the nation to opt for careers in the subjects of Science, mathematics and engineering and to prepare them for taking part in the annual international Olympiad in the subjects of Biology, Chemistry, Mathematics and Physics. Here we are giving you the Stem Careers Programme Nstc Nomination Form Eligibility Criteria 2016 15 and all other details relevant to Stem Career Program 2015-16. You can join the Venture of the Higher Education Commission HEC and Pakistan Institute of Engineering and Applied Science for the year of 2015. There is an open invitation to the National Contest for the achieving the coveted membership of Pakistan's Olympiad Teams for the year of 2016. Beside the cash prizes and certificates of Pakistan Institute of Engineering and Applied Sciences will offer you admission as well in the programme of BS without conduction the entry test to the Pakistan IPho team. So it is the great opportunity for all the candidates who want to avail this opportunity.
We have given you all the information relevant to this Offers so that you can get all what you want to get through this page as the mission of the Stem career is to encourage the engineering students to come up with the intellectual and innovative ideas and solution to the problems of national interests. Stem Careers Programme Eligibility Criteria 2016 15 is given under here check this out.
Last date for receiving Nomination Forms:

9th January, 2014
Stem Careers Programme Nstc Nomination Form Eligibility Criteria 2016 15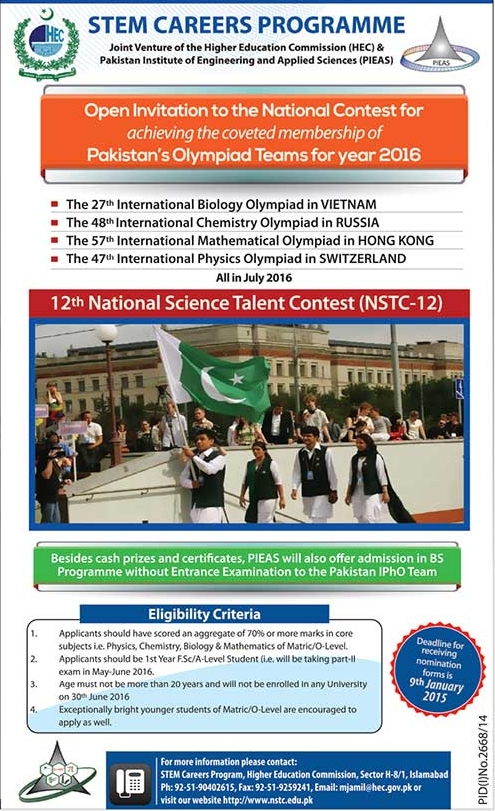 Eligibility Criteria:
All the applicants must have scored aggregate of 70% or more marks in core subjects such as Physics, Biology and Maths of O Level studies.
Those students who appeared in the 1st year F.Sc/A Level are able to apply.
Applicants must not be more than 20 years and will not be enrolled in any other university on the date of 30th June 2016.
All the brilliant and excellent students from Matric/ O level are encouraged to apply as well.