Finally, an authentic name in the banking sector of Pakistan is offering a secure branchless banking. Surely we are talking about Konnect by HBL. Through this one will also use the phone number as a bank account, through which you will freely transfer or receive money in all across the country. More importantly, it's safe and easy to use in a reasonable transaction charge. This article is writing for those who want to know that how to open HBL Konnect Account?  The login process for Konnect by HBL is not too difficult. For this purpose, the company has provided four different options to open an account. So one will choose anyone among that will suit you.
How to Open HBL Konnect Account?
There are four ways to open this account. Further, the document detail that is required for the Konnect is also mentioning below.
By visiting Konnect Franchise
HBL Biometric ATMs
Konnect Mobile App
SMS
Via Konnect Shop How to Open HBL Konnect Account?
Right now, numbers of Konnect franchises are working in the entire country. One just requires to visit these places along with a valid mobile number and ID Card Copy.
After biometric verification, one will receive a successful registration alert from 8425 on the registered mobile number.
With HBL Biometric ATMs How to Open HBL Konnect Account?
For this, one just needs to find a ATM spot that support it. First of all, select your language on the screen.
Then Konnect Account registration option will come to screen. By clicking this, one needs to provide the phone number, ID card detail along with bio metric verification.
At end of registration, one will receive a final message for the authentication of account.
HBL Konnect Login through Mobile App:
Their mobile app is easily accessible on a smartphone. Just download and activate it by following the required registration process. After the completion of registration one will get login detail that will use for later sign up.
(Through SMS) Konnect by HBL Login?
This is the easiest way to open the account. One only needs to follow a given message string and then send it to 8425.
The string that is necessary to follow.
BBAO then <SPACE> then <CNIC> again <SPACE> then <CITY>
Konnect by HBL Charges for Transaction:
This is the table 1 of that comprised of the charges for the transferring of money:
Table 1:

Table 2: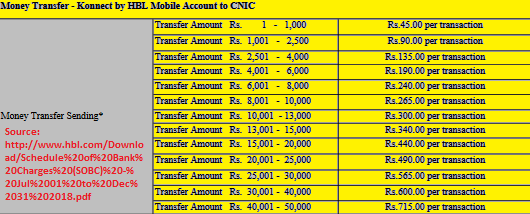 HBL Konnect Charges:
Table 3: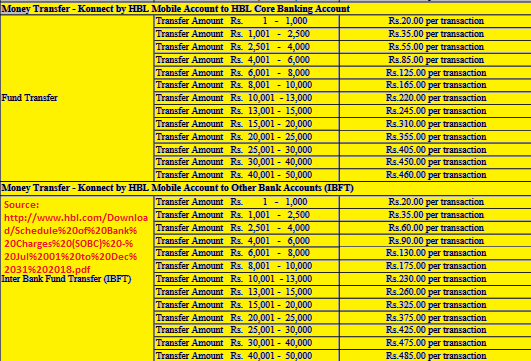 The above table shows that now how its cheap to send money. Apart from money transaction, now HBL Konnect also offered to pay the utility bill, home remittance, donation or the Zakat payment. Furthermore, they will provide a handsome limit too.