5th Kabaddi World Cup 2014 is going to enter in final stage because now Semi Final Schedule is come. In this schedule four top poll teams faces each other and among these two teams are select for final competition. So these matches are forming a shape of do or die, it's necessary for every team that they won this match. Strong matches are come in upcoming days, because top team of both pools are come to play in both these semi finals. This Kabaddi World Cup is too much interesting because this time every team participate with great preparation, due to which all pool matches play really close. Before this game is only play in sub continent and two teams from this region is really strong that easily get position is final matches. This time things are quite different and every team look dangerous and lovers of this game enjoy every competition. Now time comes for final matches, every fan waiting for these couple of games anxiously. Hopefully these get chance to sees some kabaddi matches in these semi final matches.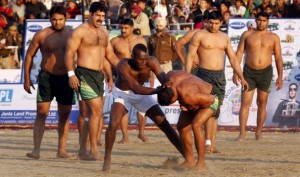 Kabaddi World Cup 2014 Semi Final Schedule:
Semi Final 1: Pakistan Vs. Iran (Men's)
Semi Final 2: India Vs. England (Men's)
Matches Date: Thursday. Dec. 18th
Time:
12:00pm IST, 11:30am PKT, 6:30am GMT, 10:30pm
First match is played between Pakistan and Iran; this team Iran team participates in different shape. They give chance to majority of new players that perform really well throughout the Kabaddi World Cup 2014. They are able to give tough time to any team so strong Pakistani side faces a tough team in this match. In second semifinal India faces England again this time both are strong team; crowd advantage is goes to home team. Although India is strongest team but if England play with total fit players then they must gives tough time to India. Further Kabaddi World Cup 2014 Semi Final matches are plays according to Schedule.