This world is full of information and based of knowledge and express is full all conditions and requirement of this modern age. Now in recent period of time everyone wants to get alerts of all current affairs. For this its necessary to know that How to Activate Express News Mobile Alert. Express news is one of best the best channels in Pakistan and always trying to best effort to provide the latest updates and information for the people of Pakistan efficiently. This is only channel that's too much popular among the people of Pakistan due to excellence work in the field of journalism and having wide network in all over the Pakistan. This channel committed to provides the latest updates and information quickly for the people of Pakistan and also news lovers. Express now provides the latest technology for new lovers that are not connected with television every time due to their busy life and they want to connect in the informative world on their mobile phones. There are so many people too much likes this express news mobile alerts because it's provides latest information to you anywhere and anytime.
In current time this is best source to get all recent updates of country, so must take benefit from it.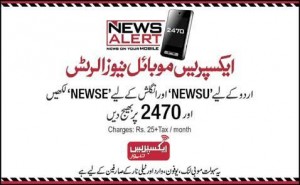 Activation Procedure:
There are a lot of people about to activate express news mobile alert for their knowledge related to current issues every time. There is a so simple method to get these alerts on their mobile phone you can just type SMS NEWSU for Urdu or NEWSE for English and sent to 2470 or interested people just dial 247 from their mobile phones and enjoy the latest information by the express news and increase their knowledge.
This news alerts provides to 24 hour in a week and deduction just only Rs. 25 plus tax for three months. This is only news channel that's provides every news and brings revolution in the fields of communication.