Zong is one of the fastest growing network in Pakistan and every one want to get this network. So here we are going to give you the process that How to Convert to Zong With The Same Number From Ufone Telenor Warid Jazz. There are many was for doing this but here we are going to tell you all the ways to convert Zong to other network. If you are also aiming to change your network to zong there is nothing so hard. After reading out this article you will be able to get a easy way to convert you network to zong without changing your number. Have you every heard the name of MNP, MNP stands for the Mobile number Portability which stands for the essential requirement of every developing country. There are a number of facts and reason of it, there would be so many people in every country who are not satisfied with their network and they want to change their network but not their number. With this facility of changing a network without changing number, Zong has got too much benefit and it is growing very faster in Pakistan.The subscribers of zong are getting increased with every passing day. So all those users of Ufone, Telenor, Warid and Jazz want to get their number converted to zong are on the right portal to get information. The different methods to convert you SIM to zong without changing number are given under here:
How to Convert SIM to Zong Network:
The most simple and easiest way to change your number to zong with the same number is to visit your nearest Zong franchise along with your original CNIC, photocopy of it and the original SIM with its jacket. They will verify your thumb impression and your SIM will be converted to the Zong network easily.
2nd easy method is to call the Help line of Zong and tell them that you want to get your number converted on Zong with same number. Follow up the instructions given by IVR or you can also talk to the CRO for better communication.
The third and last way to convert your Ufone, Jazz, Telenor or Warid SIM to zong with same number you have to browse Port to Zong online MNP portal. Enter your number in the first given box and click on the generate Pin Code. Now enter the recieved code along with your name and address and submit it. You will receive a confirmation message from Zong.
How to Convert to Zong With The Same Number From Ufone Telenor Warid Jazz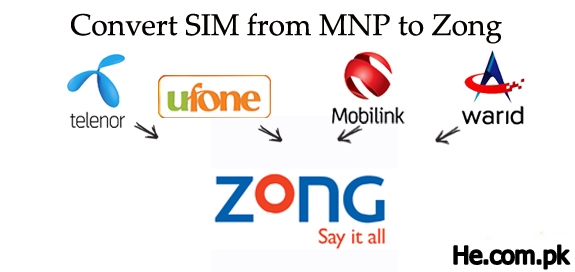 The above given process is for your ease so that you can change any network to Zong with these three methods. If you want to get more latest updates about this just stay in touch with this page and you can get all what you need to get.
For further details visit the Zong Customer Care Center.