Now PTCL again announced another attractive offer that on purchasing new Evo you can get free internet for one month. This is one best offer that they announce after a long period of time. You can enjoy free internet surfing for one month time period. But after announcement of this offer many questions are arising according to its validity time period. Officials of Evo announced that you can take benefit from this offer from only June to till August 20th, 2013. So it's necessary that they must increase its validity time period and user take benefit for long period of time. If one sees the internet performance of Evo then now they are among best one that provide internet facility. They always take care of internet speed and quality. They provide a best complaint service through which it's easy to remove internet problem. But their rates are quite high and from a period of time they announced few attractive offers. And this one is its best example; from here you can find total detail of this offer so must read this post.
On New Evo purchasing PTCL Offers One Month Free internet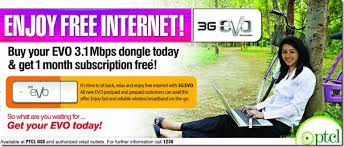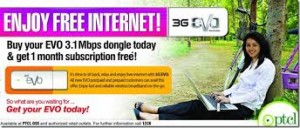 Terms & Conditions about New Evo purchasing PTCL Offers One Month Free internet:
This service is only for those get new device of Evo Rev.A dongle.
On other evo devices just like Nitro Cloud, Evo Cloud, Wingle & Evo Tab this offer is not applicable.
Both prepaid and postpaid users can take benefit from this offer.
For prepaid users one month usage will limit to 30 GB while for postpaid this will extend to 50 GB. After this Rs 0.10/Mb charged on prepaid.
Validity Time period:
Most important thing is validity time period of nay offer. This Free internet for one month on purchasing new internet device is valid to till 20 August 2013. It will not clear that they increase this validity time period but still it will announce to till August. So now if you wants to buy new device then must take benefit from this offer and purchase a new offer as soon as possible.