Zong is a well reputed China based company that is ultimately the most growing Network in Pakistan. from a Couple of years ago a telecommunication company was operating in Pakistan by the name of Paktel. Later it was bought by Pakistan company and than converted to Zong. The Whole infrastructure of Paktel at that time was changed at that time including the Packages,Call rates and all other things so far. After this conversion all Paktel Franchises converted in to Zong and just after changing it becomes more lucky for that Chinese Company.
The Paktel service centers now servings as Zong Franchises so far. Zong proves itself as most trusted network with much more entertainment. It looks that this network is the network for young generation that is actually the target Market of other Mobile Phone Network companies so far. Actually Zong is latest network in Pakistan therefore it has least numbers of Customers in contrast with other Mobile Phone network companies. Zong is most growing network because it has many new customers since last two years. Its advertisement and attracted Packages are very much entertaining for its customers.
Zong Dial Tunes Codes List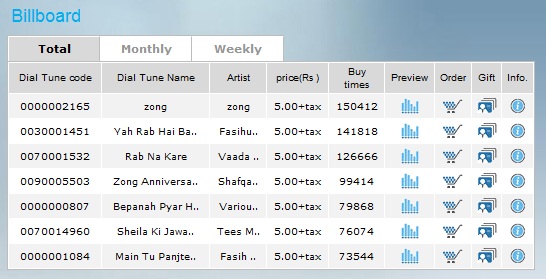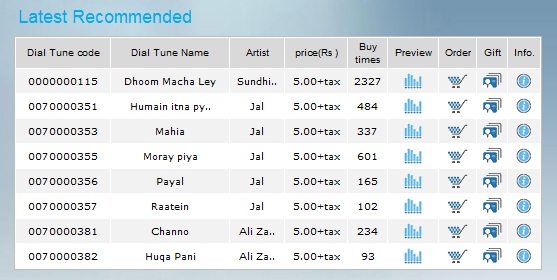 Subscribe Zong caller tunes
There are 2 methods to subscribe zong dial tunes.
    Call "230" to subscribe.
    Type "REG" in text message mode and send it to "230"
How can Zong tunes be bought?
    Download dial tunes.
    Make personal albums.
    Assign a dial tune to a specific subscriber.
    Enable dial tunes to play randomly.
    Activate/Deactivate the dial tune service.
    Manage black list.
Self made dial tunes
Dial 230 and record dial tune in your own voice and assign it to friends and let them hear what you have to say.
Dial tunes from web (http://crbt.zong.com.pk/colorring/index.jsp)
You can also Share with us which is your Best Zong Dial Tunes among these Zong Dial Tunes Codes List in above writing.