If you would be looking around, you will witness that with each single year the wedding fashion trends have come across with so many changes in their outfits designs. For any Pakistani Dulhan and Dulha, their wedding dresses hold the greater sum of importance. This is the main reason that they start imagining their dresses so many months before the arrival of the main wedding day. In changing trends, the major role has been played by the side of Pakistan fashion designers. Scroll down and catch the complete information about dresses ideas in 2017 and pictures for bridal and groom. These wearing ideas are different for three important occasion included (Mehndi, Barat and Walima). Furthermore colors are also different for these events.
As we do talk about the dresses ideas for bridal then it would not be wrong to say that once again the previous old wedding fashion trends are back again. These days the trend of wearing long shirts with lehengas is getting vast popular. Some of the Dulhan are often in favor of wearing the medium knee length shirts with lehngas. In the same way, fishtail lehengas is another one of the most favorite style of wedding wears on Barat day. But Frock with heavy embroidery work is most preferred on Walima day.
Red is considered to be the main color in any bridal wedding dress. But now apart from the red, there is a blend combination of so many other colors that are being painted inside the dresses such as peach, purple, sky blue, sea green and maroon.
Majority of the Dulhan favor to match their wedding dress color with the color of the Dulha dress option. This gives so affectionate and compatible look to the couple image.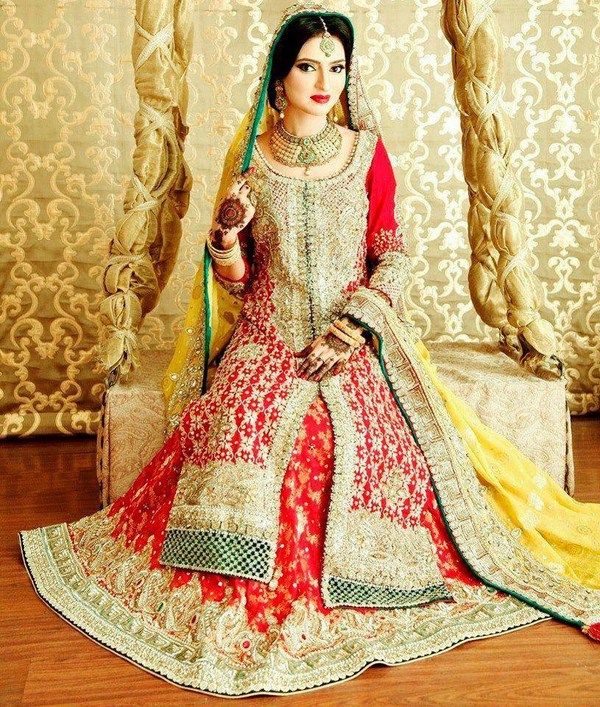 Pictures Collection:
Now let's talk about the dresses ideas for Pakistani grooms! Just like the brides, they are also left behind with countless options of the dresses designs for their wedding day. They can choose to wear salwar kameez suits that are paired with waistcoats. On the main wedding day, some of the grooms also think about wearing dress pant suit that is quite decent and well tailored looking. One of favorite option to wear is Sherwani to make this day best one.
Sherwani is most appropriate on Barat. Mean while for Walima Function paint coast is consider as best option. For Mehndi groom always looking towards some best salwar kameez design.
So this was the end of the discussion about new dresses ideas for Pakistani Dulhan and Dulha in 2017! If you are getting married soon then be careful in terms of selecting with the outfit ideas to make your main wedding day special and unforgettable.