Again a top electricity distribution company announce vacant to provide opportunity for all those who are eligible and will wait for such kind of job opportunity. MEPCO again announced jobs during 2016, like previous year this time again Multan Electric Power Company collaborate with NTS to handle all things of hiring of Chief Internal Auditor and ALM Assistant Lineman. So from download of rill number slip to all info of test date and candidates list is also available at their place. Initially applying candidates are searching their name from candidates list because these selected applicants are called for test. For the info this list is prepare fro all of those who full fill all requirements. After this next step is start for this now its time for preparation.
 Its a general advice for all selected one that keep your body and mind relax. Don't get panic during preparation and then in test. At first look paper might be overwhelming, keep calm while reading the paper and after reading remind yourself what you have prepared. And when you have done your paper, take a thorough review of your test.
They was looking for only those who can do these jobs in well manner that is why MEPCO hire NTS for the test to check out the eligible and suitable candidates for the designation and posts offered for the new year.
Test Date:
Chief Internal Auditor: 27 March 2016
Assistant Lineman: 28 February

"Get Roll number Slip and Selected Candidates List"
"Second Advertisement"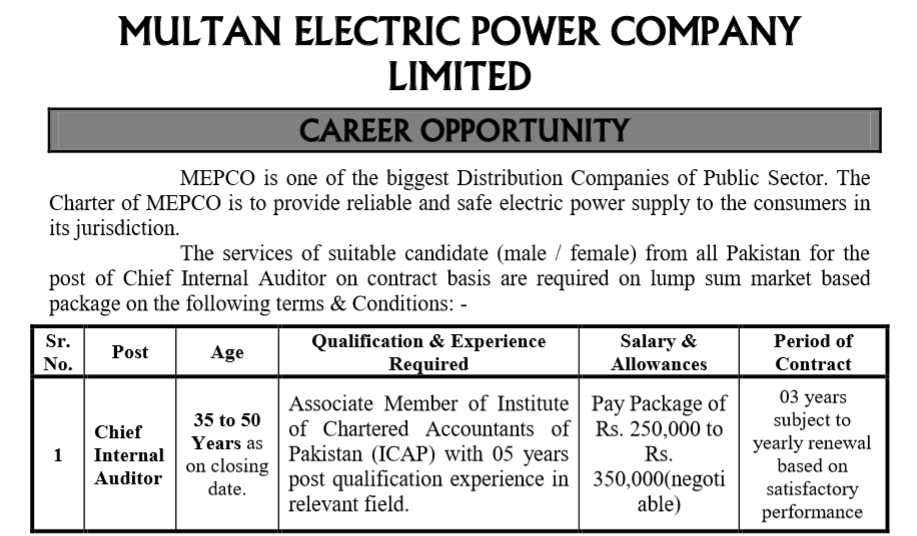 For this List and Slip Announce Later…………………….
These are two different kind of Positions were offered by MEPCO and the recruitment test will also be taken from them. NTS has announced the test day for both of these seats. For Assistant Lineman NTS issue the roll number slips to the selected candidates so check your name as well download it for final appearance. This will be containing all the details about the date, time and the test center. While for Chief Internal Auditor these all things are announced soon. A candidate without roll no slip will not be allowed to get in the test center. Yet only for these two positions mepco jobs has announced in 2016.
In initial they all vacant are filled, later on in this year new opportunists must come under this platform. Because this platform always offers opportunities to intelligent and hardworking guys that they must full fill the needs 0f this sector.