It's a factual statement that from last many years, Military College Jhelum is the ideal educational institute for the middle and secondary level students. That's why every student wished to be part of this college. But it's not an easy task, because one must need to full fill their strict criteria. Two major things that matter a lot for the admission are the marks of (Matriculation and entry test result). So, first of all, make sure to score maximum marks in both of these exams. As per current schedule admission, Military College Jhelum 1st Year Entry Test Result 2018 will declare after 6 May. Probably, after the test date, the official will public the date for the declaration of result. Furthermore, in later part of this writing, take a look at the
Eligibility Criteria
Test Date
Selection Process
and Contact Number
Let's begin with
Eligibility Criteria:
This institute is specifically for male students, so only they will apply for these admissions and appear in the test.
Age limit for applicants must be in between (15 to 17) Years.
Result awaiting students have also the option to appear in the test.
Test Date:
Surely, 6 May is the final date.
Result Date:
Admission Advertisement: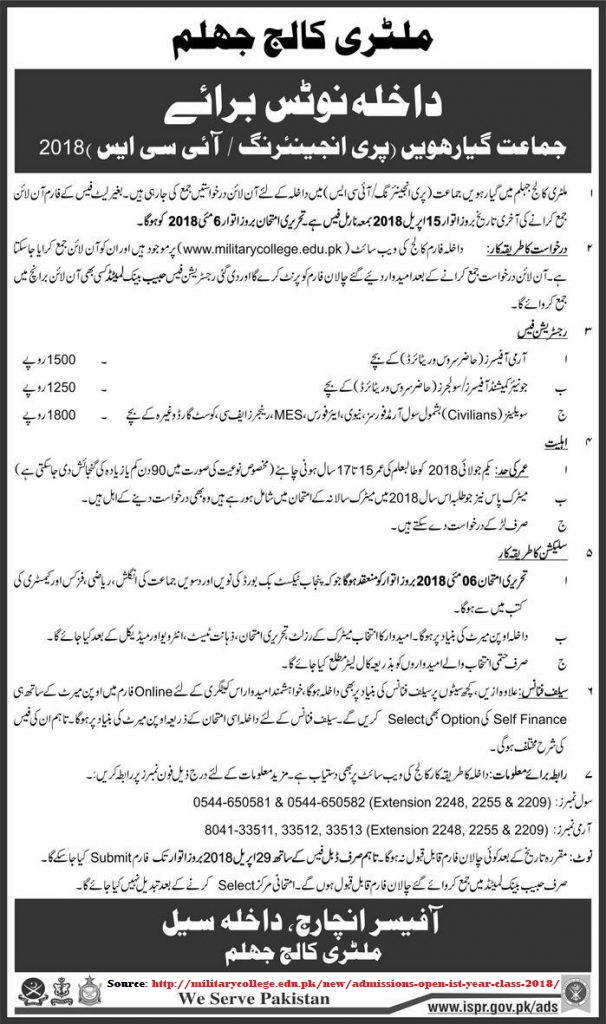 Selection Process:
Selection will base on merit. And the key things to get a good position in merit list are the (10th class Marks+ Test Result+ Intelligence Test Score+ Interview and Medical Test)
Only selected students will call through the letter.
Only a few seats are also available for self-financers, so on time of application submission, they must need to select Self Finance option.
This admission is only for the (pre-engineering and ICS) group. So medical student is not allowed to apply.
Number:
For civilians 0544-650581 (Extension 2248, 2255)
Hopefully, this writing is enough to understand the Military College Jhelum 1st Year Entry Test Result 2018 for current opened admission. Moreover, we are closing down this article with the tip that strict yourself to follow every role to full fill your dream.