Do you know that PTCL DSL Broadband offers free 1 Mbps to 2 Mbps upgrade? Well if you are still not alert from this offer the just read out this article for getting the entire main details about this offer. PTCL is famously known as Pakistan Telecommunication Limited. This sector has been working in Pakistan for much longer time scale and every year this has been identified with much distinguished and reputed name. This moment of time, PTCL has yet again arrived with another offer for the convenience of their customers. This offer has been intended with the joint collaboration of DSL Broadband Limited. In this offer, all the PTCL users will get the chance to avail 1 Mbps to 2 Mbps speed of internet till 31st March, 2013. There are no extra charges for this offer. In simple words, the customers will be allowed to get hold over this offer at just Rs. 1,250 for one month till 31st March, 2013. Here we would like to mention that after 31st March, all the PTCL customers will have to pay Rs. 1,549 for 2Mbps speed.
PTCL DSL Broadband Offers Free 1Mbps To 2Mbps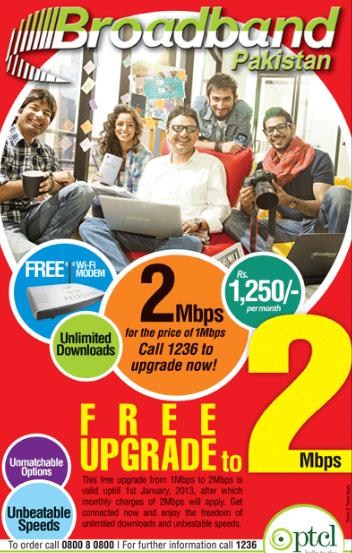 MAIN FACTS ABOUT PTCL OFFER:
2 Mbps speed charges will be Rs. 1,250 for one month.
In this speed the customers can get hold over the unlimited downloading with the fastest speed.
There will no charges before 31st March, 2013.
All those customers who don't want to get availed this offer they are required to get rid from this offer by dialing 1236.
After 31st March, 2013 the customers will get back to their on-going rates for using 2Mbps speed.
As soon as the offer will be announced all the 1Mbps will get transformed into 2 Mbps.
Well this was all about PTCL DSK broadband offer. Just like all the previous launched offers by PTCL this package has also attracted many customers and we are sure that it will definitely going to live up to their expectations for sure. On the whole of this conversation we would figure out that all those PTCL customers who always wanted to stay connected with the world of internet and that too with the fastest speed of internet in the midst of lowest rates then just get connected by means of this offer now. We are sure that you will going to have huge fun by using this offer.