As an result oriented program, the Tevta short courses in Lahore 2023 is expanded more through which free training admission are granted to male and female. While, the govt is also taking many new steps to make it more innovative and advance. So far, thousands of people learned from them and now they earn an handsome amount too. But again its necessary to choose a right course where you excelled your abilities. As well as, one can quickly pick the process of that courses such as how to apply, duration and all the features of the courses. All of their work shows that this will make it more better.
Tevta Short Courses in Lahore 2023:
The short courses of Tevta are now category wise in Lahore. Like they decide few programs under this system and then put different course in them. Just like Hunarmand Nojawan program is their part and this was covered E-Rozgar courses in various categories as:
Technical
Creative Design
Amazon
At the current moment, none of the Tevta short courses has invited application in Lahore. Maybe, they are in pipeline and will let out in coming days.
Tevta Free Courses 2023 Training Admission:
Few top free Tevta courses in 2023 are from different categories and the admission for trainings are possibly opened at end of this year. So, the best way is to be updated with them and join as they post it.
Name of few free known courses and they all are worthwhile to.
Driving(60 Days)
English Language(60 Days)
Cook(180 Days)
Electrician(180 Days)
Beautician(180 Days)
The clear objective of the Department is to promote and provide demand driven technical education and vocation training and making the new generation of Pakistan skillful. It enhance the global competitiveness in the Punjab by doing work by for in the Technical field at all.
Note: Following is not the current admission info. This is just for you to understand the facts of this program. Thank u.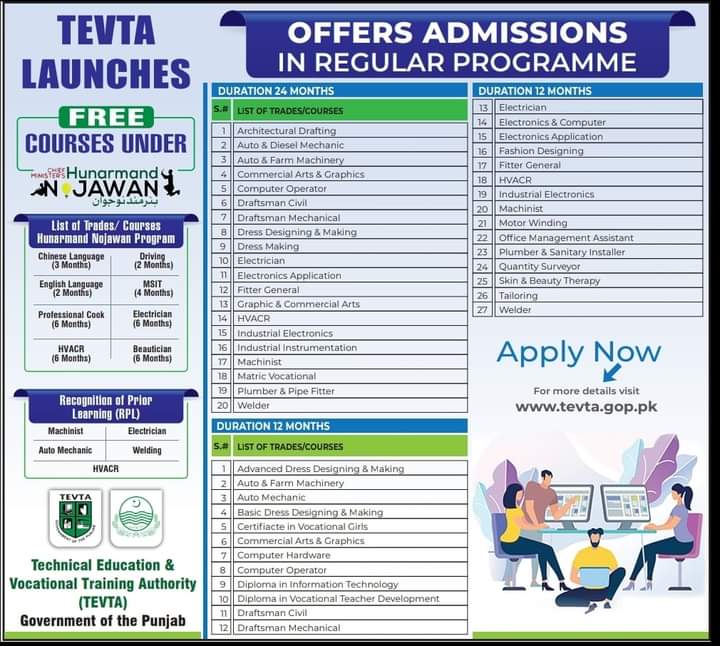 Best Features:
Free training material will be given to the selected individuals.
All the training and admission is free. Means, one will not have to pay any admission or course fee, it is free of cost by the Government of Punjab.
Not only this, you will also get monthly scholarship of good amount that is very plus point of this training program.
After doing these Tevta short courses in Lahore 2023 there is nothing hard to find out the job in all over the Pakistan and in abroad as well. So, don't take these Tevta free short courses training admission easy and learn as much as you can from it.