Now again Khud Kafalat interest free Rozgar Scheme 2014 By BOK in KPK for which Eligibility Criteria, Loan Recovery, Limit is combined at same place. This rozgar scheme is announced to give opportunity to all youngsters that are now free due to UN availability of jobs. Through this they get a handsome amount that is enough for starting a business. Hopefully this scheme is helpful to minimize the UN employment in this province of Pakistan. Further details of this scheme are given as below.
Total Amount:
Total amount reserved for this program is Rs 2 billion from the total budget of Khyber pkhtunkhawa government. It is almost 5 % of the total budget.
Loan Limit:
The loan limit is from Rs 50,000 to Rs 200,000. Nobody is allowed to take loan more than 200,000. This is the maximum limit of taking loan.
To Download Application form click Here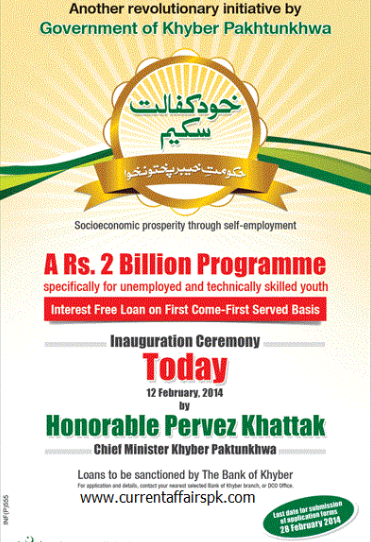 Guarantee or Security:
Because it is a financial scheme so there is a need of guarantee or security. It is the first requirement for this program. Any person who will not give guarantee or security. Loan will not give to him without guarantee or security.
Eligibility Criteria for Taking Loan:
1)      A person who is unemployed or low income person can apply for this load scheme.
2)      Educated and skilled person will be preferred.
3)      Domicile should be of Khyber Pakhtunkhwa (KPK).
4)      Permanent citizen of Khyber Pakhtunkhwa (KPK).
5)      The age of applicant should be greater than 18 years old and less than 50 years old.
6)      The person who is applying for loan scheme should not be defaulter of any bank in Pakistan.
7)      The person who I applying for this loan scheme had not received loan from benizeer income support program or waseela e haq lan scheme or any other loan scheme by government.
Interest Free Scheme:
It should be kept in mind that is the without ant interest scheme.
Loan Recovery:
Loan should be return back in installments within 3 years. Three years are the maximum duration to return the whole amount received from this loan scheme.