The previous week, the Ehsaas program had started by the prime minister of Pakistan for those deserving families who had hit from coronavirus. That's why people are finding a way to apply how to register in Ehsaas program online to get 12000 Rupees in an emergency because that depends on daily basis earning. The majority of the populations are belonging from poor and middle-class families but we cannot neglect the initiative step by the government. The federal government allowed 144 billion rupees for this purpose who will distribute among more than a hundred million families, said Chairperson Dr. Sania Nishtar. Adding that, the Registration process launched and approximately millions of families had received Ehsaas emergency cash under this scheme. Registration is doing in different ways and we will discuss briefly.
How to Check Ehsaas Program Eligibility Online?
Firstly eligibility is imp that who decided by the government of Pakistan. Yes, the way that how to check Ehsaas Program eligibility Online? is also not complex. According to the chairperson, in each family, one person will be eligible to apply. In this regard, the online process has been introduced by the federal government and people can easily send applications after following some instructions.
Firstly, people will visit the Ehsaah emergency cash website and portal then they will give CNIC Number for the checking of eligible or not for this scheme.
After processing this step, it takes again the CNIC number and they will confirm the member.
Then they require your mobile number and will ask your network company name which is using.
After this, they will provide a specific text code that is necessary to enter.
After enter code, you will provide a complete residential address and accept all terms and conditions .after verification your registration process will complete.
Before handling the cash, the government does all verification against your documentation then he will be allowed the amount.
Ehsaas Emergency Program Last Date 2020:
Yet, any govt statement has not broadcast regarding the Ehsaas emergency program last date 2020. Yet, the 19 April is the circulating date of its closeness.
How to Register in Ehsaas Program Online Apply? or through SMS:
The major part of the low-income families is living in a backward area of Pakistan and the availability of the internet does not exist while they are thinking about how to register in the Ehsaas program through SMS. All situations are under the observation of that committee who are organizing all things and they have introduced registration through SMS.
How to Send Message on 8171 for Ehsaas Rashan?
All points of guidance and information are given.
You will write the CNIC number and send it to 8171.
If your CNIC number is valid then your registration process will be forward.
After sending a message on 8171 you will receive a confirmation message from the administration.
One more message you will receive about cash then you will contact with union council and tehsil office where cash distribution is also doing.
Government employees do not eligible for this program because this scheme is just only poor families who are financially disturbed.
How to Get 12000 from Ehsaas Program?
About, 3000 camps were being established with the help of the provincial Government and several Booths have been made with the help of administration. In the direction of prime minister Imran khan, authorized about cash distribution have been forward to HBL and Bank Al-Falah where people can collect money and now 10 thousand above branches are working across Pakistan.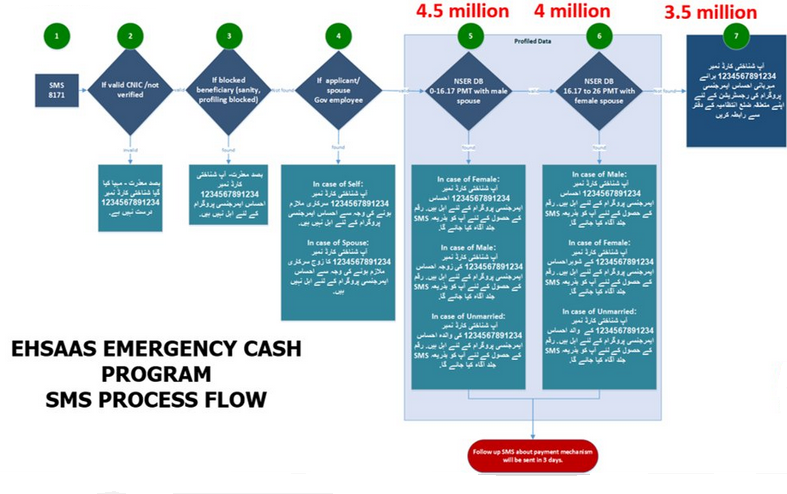 The cash distribution process will complete within 3 weeks and then the government will announce the Ramadan package for deserving families. Hopefully, this info will beneficial for you to online apply or else how to register in Ehsaas Program to get the 12000 Rupees, but with this make sure the last date and also check the eligibility that you will allow for it.