For the information, this RIMS System is an initiative of PRA. According to this initiative, all of the partners of Punjab Revenue Authorities should be getting in hand confirm receipt of their food charges from their particular food or restaurant. Then lucky draw will be held and whoever will be winners in this result of balloting of Restaurant Invoice Monitoring System in 2016, he or she will be getting prize hampers of lakhs in worth! If you want to enjoy both of the benefits of dining out and getting the prizes too then you can do that by becoming the part of this draw right now.
How can you participate in this Draw?
You only have to send us your invoice from where you have dine in or dine out. Just tell the manager of that particular hotel or particular restaurant that you want confirm receipt. Then you have to send that invoice along with your CNIC number on this

You can also get connected with the official face book fan page of PRA. At that social media fan page, you should be tagging your name, your CNIC number and your receipt picture.
You can also have this option to register your information and data right at that particular hotel or at that restaurant.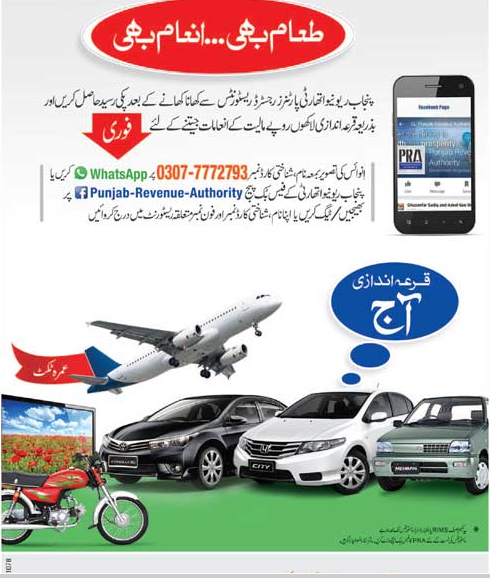 If you will be winning this lucky draw then there are chances that you might be getting LCD, LED, motor bike, cars and Umra tickets too.

Restaurant Invoice Monitoring System RIMS draw result winners list 2016 will be announced today. Make sure that from now onwards, you should be taking part in this balloting. This is right now specified only just for hotels and restaurants of Lahore. So, all the Lahori people out there, you can now get bunch of prizes by dining and eating out with your families. Just enjoy your lovely food, as tradition of local peoples that they are food lovers so now they are enjoying both things at same time. While this is also good for overall nation, because hope fully this money will invest on projects.