For most of post and undergraduate(bs) programs, the UAF fee structure 2022 is particular unique for every course. Further, these admissions are open for many of the programs in different departments that include Agriculture, engineering & Technology, veterinary science, Social science include BBA etc.. After applying, the first task is the entry test that must to pass with some good marks. Because, after compiling all of these marks, the selection will conclude. While, entry test will different for every program. The syllabus of test will change according to nature of the program in which candidate will appear.
UAF Fee Structure 2022:
Difference of regular UAF fee structure 2022 and for the self finance is very distinguished. But, if one will able to pay these more fee charges that he will get same right like a regular admission selected seeker.
Undoubtedly, University of Agriculture Faisalabad that also more recalled as UAF trigger their work from specific Agriculture field so majority of programs that offer in UAF are belongs to Agriculture filed. This institute makes agriculture too much advance and offers those various programs belong to this field first time in Pakistan. Another cause of their familiarity is the research work that had only done in this institute.
UAF Undergraduate Fee Structure 2022 Regular and Self Finance:
Surely, the data or following fee structure chart for the UAF (University of Agriculture Faisalabad) is enough to reflect that this is not much higher then the other many of the universities. From 1st semester to the next are again changed accordingly.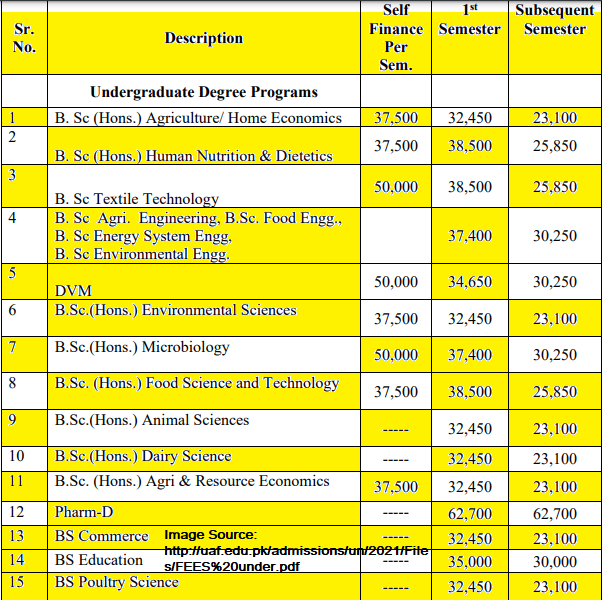 UAF Postgraduate Fee Structure 2022:
Number of postgraduate programs under the University of Agriculture Faisalabad has a lengthy list of degrees. It's one of the rare university that cover such programs under one roof. From the MS to Mphil and PHD, every of the degree is taught by many faculties. While, the affordability of fee again shock you that if you want to get it, then finical is not a big obstacle in it.