Do you want to find UET Entry Test Centers for BSC ENGG, Tech Admissions 2013? Then this is best place from where you can find total details of the Centers at which this entry test for the admission of Bsc engineering and Bsc Technology will hold. UET is one top university of Pakistan related to technical studies. Its degree is considers as one top university degree due to its high standard. University of engineering and technology is serving for Pakistani students from a long period of time. They always try to give polish the internal abilities of students through their best educational system. They try their level best to make their system purify as such as possible. For this they also introduced semester system in their system of education. They close every option of admission in UET without passing their entry test. After passing it they make an aggregate that depend on candidate educational marks as well as entry test mark. SO after this whole procedure they announce final merit list of students. So in this merit list of UET entry test marks play an important role. Now entry test to gain admission in two major programs is going too held in next month. Official also announced total details of centers at which UET Entry Test for admissions BSC engg and BSc Tech during 2013 will held.
UET Entry Test Centers for BSC ENGG, Tech Admissions 2013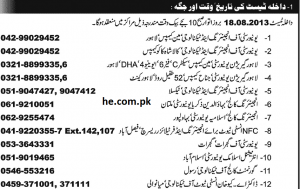 Details of UET Entry Test Centers for BSC ENGG, Tech Admissions 2013 are given there…
UET Main Campus Lahore
UET Kala Shah Kaku Campus
Lahore Garrison University Main Campus DHA Lahore
Lahore Garrison University Jinnah Campus Tufeel Road Lahore
UET Taxila
Engineering College of BHZ Multan
Engineering College Islamia University Bahawalpur
NFC Institute of Engg and fertilizers Faisalabad
University of Gujarat
International Islamic university Islamabad
Government College of Technology Rasool
DR A-Q khan Institute of Technology Mianwalli
These various centers are declared because the candidates that are not belong to Lahore are face difficulty according to given this entry test. Through this step now they approach their nearest place and appear in this test. Although organizers that manage this test face difficult to handle these various centers but this is one best step that take for candidates. It will accept that above information is enough to know about UET Entry Test Centers and other details for BSC Engineering Engg and Bsc Technology tech admissions 2013. So must visit this page and find this information.