The topic here we discuss is Hair Care Tips For Dry and Long Hairs in Urdu. We know that hairs are important for men and women both. Usually we ignore our hair and should not care .if we ignore our hair many hair problems will be start. If we buy shampoo we totally ignore its remedy. Here we mistake and spoil our hair for long time .careens of hair very important .remind some tips in your mind you safe your shair, time and money. You must to do something for it. Here mention some homemade remedies if you try it you get good result.
Hair Care Tips For Dry and Long Hairs in Urdu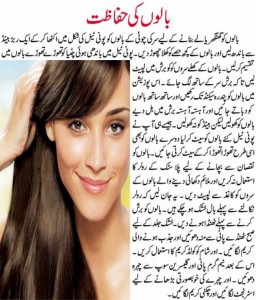 Hair Care Tips For Dry and Long Hairs in Urdu is given there..
TIPS FOR DRY HAIR:
Before taking bath apply mastered oil on your hairs and then wash after one hour or leave it at night. Wash your hair early morning. Secondly an egg applies your hair once a week.
Apply yoghurt on hair and leave it one an half hour. After washing your hair you will feel hair soft.
Apply brassica oil adds with lemon juice once a week and washes after one hour.
TIPS FOR LONG HAIR:
Proteins are necessary for hair and mustered oil is also necessary for their growth.
Coconut oil is good for hairs.3.mix amla juice and lime juice equal quantity and applies as a shampoo.
Some oil is only for long hair. Get barisscia oil 250 gm and add in alovera jell .after this oil cooked on fire and then leave it.
Another oil for hair fall and hair growth. Oil is, add mehndi leafs in coconut oil .coconut oil is 250 gm and add a cup of mehndi leafs then boil it and safe in a bottle. Apply this oil daily.
Daily drink water 10 to 12 glass, water is necessary for hair growth .don't comb in whet hair because on that time hairs is so soft so we damage it. Mehndi is best for hair growth so apply mehndi once a week. These Hair Care tips of dry and long hairs are enough to make them strong and healthy so must keep in touch with this page.