For 2015, we have now many variations in the bridal outfits, in the older days, we used to have single styling in the bridal dress section category but now you can see that they can have frocks, ghararas and shararas too on their wedding days, here if you want to know about that bridal dresses variations and that too in the Desi style then can let you know about those details:
Heavy Fancy Lehngas With Short Shirts
When it comes to the desi bridal dresses then we have mostly seen that brides opt for the heavy kind of lehngas, their lehngas are mostly covered with this heavily loaded with dabka and tilla work. It is seen that these Desi brides do not at all go for the simple bridal dresses, they opt for the fancy touch and that is what we seen in these lehngas and short shirts. It is these desi brides that only go for the bright red and rosy red bridal outfit.
Heavy Fancy Frocks With Churidaar Pajamas
We have to seen many of the desi bridal dresses that are styled up in the form of heavy and embellished frock along with those churidar pajamas on their wedding days, they like to give theirselves that Anarkali kind of feeling. It is too viewed that these brides can have these bridal frocks either styled up in the single shirt layer styling or they can too have their bridal frocks in that double shirt layer styling.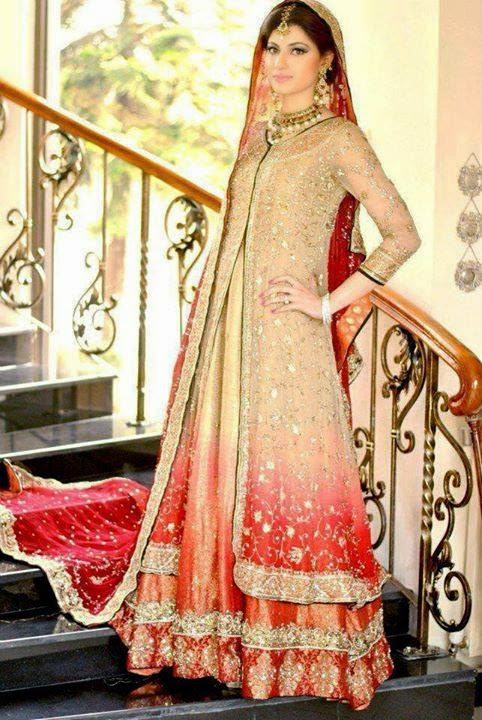 Ghararas And Shararas
For 2015, we have viewed too that many of the brides go for ghararas and shararas, they like this old styling. If they do not at all like that gota kinari work on these ghararas and shararas then they can make some alteration, they can embellish these bridal dresses with tilla work and too with dabka work.
You can say that it is not only these ghararas and shararas, it is not only these frocks and lehngas which these brides opt for their wedding days, they too opt for fish tail lehngas, they too opt for A-line frocks, now, in short, many variety can be seen! Pictures of these dresses have been shared with you, if on this wedding of yours, you want to give pure Desi bridal touch to yourself then you should be opting these dresses, they can make you Desi looking bride for sure.