Every bride wishes to have a glamorous and astonishing look on her big day. So for the perfect look, everything should be perfect like makeup. Some good looking pictures of Pakistani bridal makeup in 2018 must help one to make over for any function. We know one thing that there are a number of artist in Pakistan but most girls want to do it by their selves, the main reason of doing with their own hand is that it gives them the satisfaction that is most important while doing anything. Girls of all ages are conscious about their beauty and appearance but most teenage girls get worried about their look.Especially on weddings and different functions. On weddings, every girl wants to look different and unique and when it comes to the uniqueness girls use their weapon to become unique and attractive.
All the girls who want to get the latest makeup look for bridals are advised that must check that the products you are going to use on your face are branded or not. If you use branded cosmetics products it will not harm your skin at all but if you use local products that can affect your skin badly.
Under here we have given you the bridal makeup pics Pakistani 2018 that can be helpful for you to get the idea to wear makeover. So just select a perfect option for your face shape.
Pakistani Bridal Makeup Pictures 2018
Pics in Gallery:
Some Beneficial Bridal Makeup Tips:
There are so many techniques and tricks that can make your look more beautiful and attractive but when you are going to wear makeup you must apply base like that the all pores of your skin should be filled. That will help you out to get a good entire look on you.
One of the most important things you should consider while doing it that not apply heavy makeup and we know that foundation is used for over makeup, if you want to wear light you should not use foundation but you can use any created for light touch.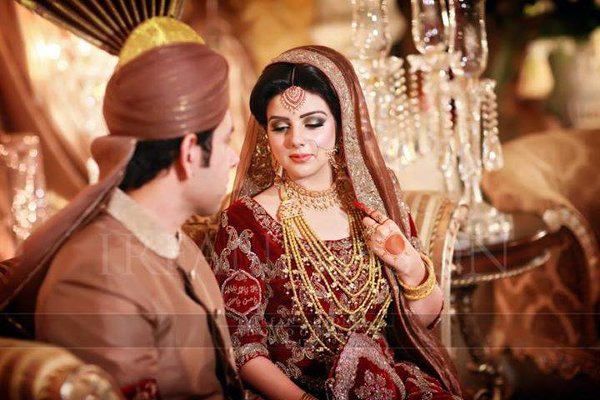 Image Courtesy: Irfan Ahson
Its necessary to have header about Bronzer, in presence of deep sun and your skin suffers from the skin burn. In that situation, you must need bronzes they will help you out to give you tan free body at all.
In this, one of the most important things is eye makeup which has got too much importance. If you are having good eye look it makes you look attractive and superb so you must wear dark shades on your eyes to have a great appearance.
In end, it's a general tip, that goes for the makeup that lasts longer and that matches with overall getup. It would be perfect if your makeup matches to your wedding dress so, every single thing should be matching even the nail color and lip color. Your skin tone is much important in every type of circumstances.