Wedding is said to be one of the special and yet the unforgettable days for any girl. She always wishes to look stunning and eye catching personality on her wedding. From the beginning of the shopping to the final stage of decorations she wished everything to be perfect and well decorated. In all such things she never forgets to mention her gorgeous wedding dress. Wedding dress is counted as one such ingredient that is always out of ordinary for the brides. Sometimes the wedding days takes place in the summer season whereas most of the weddings arrive in winter phase. When we talk about the winter then we always strikes our mind with the gowns wedding dresses.
Winter Bridal Dresses In Pakistan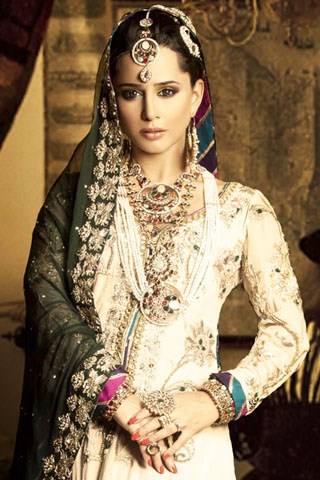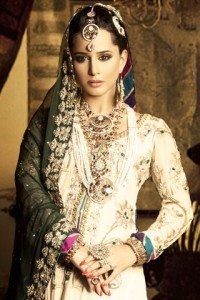 They certainly intend the bride look more stunning and off curse the major attraction for the people. When we look upon the colors blend then we normally mention the pink, white and blue as the winter colors. These colors are the best and just the ideal alternative for the wedding dresses because they will appear to be relaxing and soft colored. However, it is not vital that in the winter season just the gowns would be the ideal option as for the brides of Pakistan there are wide varieties of choices for the wedding ceremonies in winter season. Additionally, the fabric worn in the bridal dresses should probably be filled with silk and satin because the cotton or the chiffon will definitely gives an irritating image to the bride because just silk and satin are this material that are meant for the winter time period.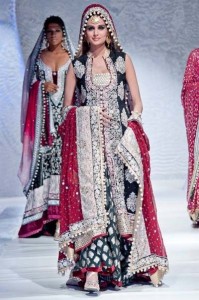 Furthermore, when we consider the sleeveless and half sleeves dresses in winter then we commonly come to the conclusion that in the wedding of winter timings much of the brides hugely favor wearing the full sleeves dresses. Such forms of full sleeves dresses certainly made the bride look elegant and graceful. This winter taste can additionally be made tasty when the bride decorate herself with striking jewellery items and stone pieces that would add together an extra mesmerizing image into her personality. On the whole after this brief discussion it is revealed that all those brides who are planning their weddings in winter season and are facing the problems of bridal dresses. Now they need not worry anymore because we have highlighted many significant and helpful winter bridal dresses tips and we are sure that through this article the brides will certainly select the perfect wedding dress for them and make them gorgeous looking for her husband.