There would be no one who is not aware from the importance of red color for the wedding ceremonies. It has been long before that the red color has been always included in the wedding celebrations and without this color the wedding is thought to be incomplete. The red color is always given a special attention in the shoes section. In simple words we can say that the greatness of the bridal shoes is nothing without the blend of red color. But on the other hand this color can only be selected if it stands well with the wedding dress. The red shoes will go dazzling with the white bridal outfit because it will make the shoes look more prominent and noticeable too.
Red Wedding Bridal Shoes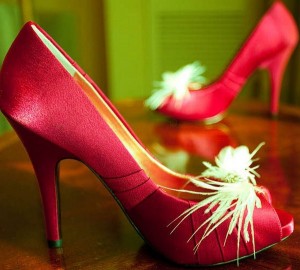 Red color has been categorized into two shades. One is lighter color and second is soft tone. The bride should always go for the light one red shoe.  Moreover, the red bridal shoes with high heels often look more attractive so try to take hold over the heels that are maximum 4 inches high. As we know that red color is also the symbol of love so making the wedding more special the use of red wedding shoes would be perfect blend in the wedding celebrations. Additionally, the red shoes can even be made extra beautiful by the combination of fashion bridal accessories for feet and for this reason brides can select the toe rings that are introduced in different styles and also matches stunning with the red shoes as well.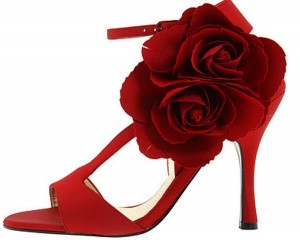 The toe rings are easily accessible in stone forms or most of them also comprise the gold covers that make the fingers look even more eye catching for the people. Most of the time it happens that some brides doesn't like the red color for the wedding but still they prefer wearing it red color shoes because they are today's fashion style statements. Just make one thing sure that beautiful shoes are only those that make you feel relaxed and don't allow the expressions of uneasiness to reflect on your face. So always try to have such shoes that make you feel relaxed and you feet soothe so that you don't feel disturbed on the wedding day. So all the brides don't forget to catch the pleasure of red wedding shoes on you wedding and we are sure that you will start loving the red color after the wedding as well.